| | |
| --- | --- |
| | |
Oilers: Both Bryzgalov and Dubnyk will see regular duty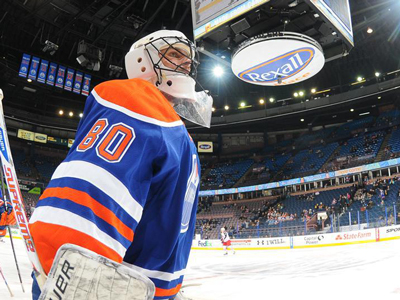 Edmonton - November 19, 2013 - So here we are.

Devan Dubnyk's poor start to the season put Craig MacTavish in a tough spot and the Edmonton Oilers general manager decided to make a move to address it.

Monday was day one of the Ilya Bryzgalov era in Edmonton and there seems to be some varying opinions as to what role the veteran netminder will be used in during his time in Orange and Blue.

While Dubnyk is in the midst of his best five game stretch of the season and has played every second of the Oilers last seven, Edmonton has gone 2-5 and continue to wallow at the bottom of the NHL standings.

Is the club's recent struggles on the former 2004 first round pick? No but at the end of the day, it's about winning games and when your record is 4-10-1, not a whole lot of winning has been taking place.

Some have tried tying Dubnyk's improved play to management's decision to bring Bryzgalov on board but in my mind, that's nothing more than a coincidence. Everyone knew he wouldn't continue to be as bad as he was to start the year but at the same time, that start played a massive role in this team being essentially out of the playoff race in early November. Hence the decision to try and upgrade the goaltending.

This notion that some have in which this is somehow still Dubnyk's job to lose, is comical. Make no mistake, the only reason MacT even looked at acquiring the former Phoenix Coyotes standout was to fix the problem with his starting goalie...not to bring in a backup. On the flip side of the equation,.Bryzgalov was looking for an opportunity to show he can still be a viable option as a starting netminder...not to simply collect a pay cheque as a caddy.

Dubnyk will be in between the pipes against the Columbus Blue Jackets but look for Bryzgalov to get the start against the Florida Panthers on Thursday night. With the thirty-three year old being called up from Oklahoma City over the weekend, he is not coming to town to sit on the bench. After Thursday night's tilt with the Panthers, Edmonton hosts the Chicago Blackhawks on Sunday night and do not play again until back-to-back outings against the Blue Jackets and Nashville Predators on November 28th and 29th.

Having Bryzgalov make his debut against the Hawks would be asinine to begin with but to have him do it after not playing for a week, would be even dumber. Making a date with Florida the perfect match for everyone involved. By that time Dubnyk would've started eight straight and would be due for a night off. Leaving it up to head coach Dallas Eakins to go with either one against Chicago and split the back-to-back games on the road.

That would bring the Oilers to the start of December and from that point on, look for both guys to get regular duty. While I don't expect the rookie bench boss to go with an all out rotation, you can bet on neither one sitting on the bench for any extended period of time....should they both be playing well.

Now if Bryzgalov comes in and is absolute garbage or Dubnyk reverts back to his early season form, Eakins will have no choice but to run with the hot-hand. With this team structured in the manner it currently is, they will likely not string together too many extending winning streaks. With that said, look for the head coach to perhaps adopt a "win and you're in" mentality, after Bryzgalov is allowed to get his feet wet.

Ultimately, none of us really know how this will play out but I am pretty confident that come 2014-15, neither Ilya Bryzgalov or Devan Dubnyk will be the Edmonton Oilers starting goaltender. Both men have a lot to prove and play for.

Let the auditions begin.


3,468 Stories & Growing Daily...

To date HometownHockey.ca has posted a total of 3,468 hockey stories!

Be sure to check out our Columnists archives or, why not Contribute a Story yourself!



HometownHockey.ca

offers a very generous revenue sharing opportunity for our Columnists. If you are interested in learning more details about writing for us, please send us an

EMAIL.
Click on Photo or Story Title for more info
HometownHockey.ca News Database Last Updated:
Apr. 28, 2022 @ 11:52 AM EDT