| | |
| --- | --- |
| | |
Oilers Gazdic continues to make the most of his opportunity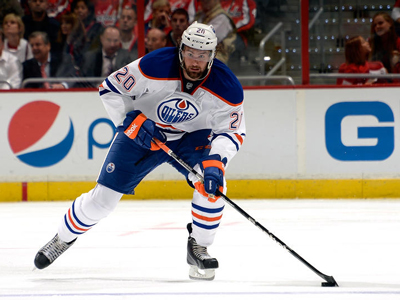 Edmonton - November 21, 2013 - There is no question that Edmonton Oilers forward Luke Gazdic isn't everyone's cup of tea.

While there are some who see a need for the inclusion of a player who engages physically and is willing to drop the gloves whenever necessary, others look at such players as nothing more than fourth line plugs that can't really play the game.

Regardless of what side of the ledger you land on, this organization clearly feels there is a need for that type of player in their lineup.

While the Oilers have added the likes of Darcy Hordichuk and Steve MacIntyre to their roster over the last handful of years, it's guys like Mike Brown, Ben Eager and Gazdic that they have shown more of a desire to dress on a nightly basis.

To his credit, the former sixth round pick of the Dallas Stars has made the most of his opportunity since being claimed off waivers by Edmonton in late September. He beat out both Brown and Eager for the role of Oilers resident "tough guy" and has become a mainstay on the club's fourth line.

Gazdic has dressed for twenty of the Oilers first twenty-three games this season and most nights, has delivered exactly what head coach Dallas Eakins wants from him. On a team filled with players who are either unable or unwilling to engage in any sort of physical battle, the Oilers #20 has becomes an all out necessity for the first year coach.

There are those who are not on board with Eakins' decision to dress these sorts of players but quite frankly...it's a moot point. He is a coach who clearly believes there is a need for employing some sort of toughness in his lineup and with how the Oilers are currently structured, this is the only way he can go about doing it.

Again, some of you may not like it but the reality of the situation is what it is. This team has been and remains far to easy to play against and while the Gazdic's of the world may have little impact on whether or not teams win games, the same holds true for a fourth line filled with one dimensional skilled players. Edmonton already has too much of the same thing upfront, which is why Eakins has decided to construct his fourth line in the manner he does.

The rookie bench boss wants his fourth line to bring energy when they hit the ice and more often than not, the fan favourite has accomplished just that. Few if any of the players employed inside the Oilers top nine have that ability, meaning it has to come from somewhere. While some believe a big hit and/or fight has absolutely zero impact on game, last time I checked, hockey is very much a game of emotion or at least it should be.

Until this organization decides to go out and acquire top line players who have far more bite to their game, guys like Gazdic will always have a place on a team like this one. Contrary to what some may have you believe, the rugged winger hasn't cost this team much of anything when he has been on the ice this season. He generally sees five to six minutes of action a night and has remained a plus player throughout.

Does he bring anything offensively or help push the play upfront? Not at all but that is not his job. Expectation levels for a player should be determined by the role he is asked to play...not what one feels should be acceptable for an "NHL player". The job he is being asked to perform is all that matters and twenty games into his career with the Edmonton Oiles, Luke Gazdic has delivered exactly what has been asked of him.


3,468 Stories & Growing Daily...

To date HometownHockey.ca has posted a total of 3,468 hockey stories!

Be sure to check out our Columnists archives or, why not Contribute a Story yourself!



HometownHockey.ca

offers a very generous revenue sharing opportunity for our Columnists. If you are interested in learning more details about writing for us, please send us an

EMAIL.
Click on Photo or Story Title for more info
HometownHockey.ca News Database Last Updated:
Apr. 28, 2022 @ 11:52 AM EDT