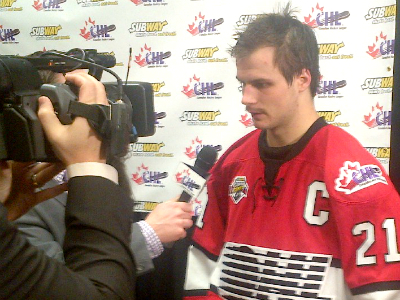 Oshawa - November 22, 2013 - Team Russia goaltender Ivan Nalimov stopped 41-of-43 Team OHL shots on goal in convincing fashion on Thursday night as Team Russia beat Team OHL 5-2 in front of 6,020 Oshawa faithful. Russia earned its first win of the Subway Super Series after losing its first two games earlier this week against Team QMJHL.

It only took a few minutes for the average hockey fan to realize that this year's version of Team Russia had the right ingredients to make for a winning recipe. Even though Team Russia had played against Team QMJHL the night before, the Russians were lightning fast and had a sufficient amount of size and skill in its roster to neutralize any Team OHL-offensive.

Nalimov, a 1st round, 12th overall selection by SKA St. Petersburg in the 2011 KHL Draft, was tested early and often, yet stymied the largely favoured OHL squad through all three periods of play on this evening. Team OHL never could mount a comeback after trailing 2 – 0 to Team Russia once the horn sounded to signal the end of the first period.

Team OHL managed to finally solve the Team Russia netminder in the second period, scoring two much needed goals in a span of less than two minutes on goals by Windsor Spitfires' power forward Kerby Rychel and Guelph Storm forward Brock McGinn, respectively.

The tables seemed to have turned in Team OHL's favour until Team Russia scored a lovely short-handed goal by Ildar Shiksatdarov at 13:08 of the 2nd period as he skated behind the Team OHL defence and slid the puck between Team OHL starting netminder and Sault Ste. Marie Greyhound, Matt Murray's legs to regain a 3-2 Russian lead.

The third period proved to be yet another frustrating period for Team OHL as their long, cross-ice passes continued to be intercepted by a skilled Russian team. Team OHL brought the physicality on this evening, but was sufficiently matched by the size, strength and speed of Team Russia. Russia would end up scoring two more goals in the third period to round out the scoring.

The Russians were led by London Knights' defenseman Nikita Zadorov as he assisted on three of Russia's five goals in the contest. Zadorov was a force to be reckoned with on this night; he never seemed to leave the ice. Zadorov became the fourth OHL player to be named to the Team Russia roster earlier on Thursday as he joined Nikolay Goldobin of the Sarnia Sting and Sergey Tolchinsky of the Sault Ste. Marie Greyhounds. Defenceman Aleksandar Mikulovich of the Niagara IceDogs was also in the lineup for Team Russia.

Team OHL starting goaltender and Sault Ste. Marie Greyhound, Matt Murray blocked 20 shots in the loss.

Player of the game for Team Russia was goaltender Nalimov, while player of the game for Team OHL was Windsor Spitfire Kerby Rychel.

For the complete game summary, please click on the Subway Super Series link here: Game Summary


Post-Game Scrum
The Windsor Spitfires were well represented by defenseman Slater Koekkoek and power forward Kerby Rychel. Rychel brought his usual hard-nosed game and kept his opponent on alert all evening long with his bone-crushing body checks.

Owen Sound Attack defenseman Chris Bigras tallied two assists and was solid on the blue line for most of the evening. "They (Team Russia) capitalized on their chances. It was a different style of play than what we are used to. We had some good cycles, but just couldn't finish." When asked how it felt to be invited to play for Team OHL, Bigras, a 2013 NHL 2nd round draft selection by the Colorado Avalanche, stated "It was a huge honour—I kept it (my game) pretty simple".

The London Knights were well represented on Team OHL as both Josh Anderson and Bo Horvat were tenacious on the forecheck. Anderson and London teammate Max Domi began the evening on Team OHL's first line as the two flanked centreman Scott Laughton on the wings. Erie Otters' centreman Connor McDavid had many chances in the offensive zone but was foiled by Team Russia's netminder at every turn and was held pointless.

Oshawa General Michael Dal Colle, a 2014 NHL draft-eligible prospect and teammate, defenseman Josh Brown saw limited ice time in the contest. Team OHL captain and Oshawa General Scott Laughton unfortunately did not have his best game on this night while teammate and goaltender Daniel Altshuller watched the game from the bench as he backed up starting netminder Matt Murray.

The loudest ovation of the night came during the player introductions when Oshawa Generals' fan favourite, Team OHL captain Scott Laughton was introduced by the PA announcer, "it's a pretty special feeling to hear your name called. We have some of the best fans in the league. It's going to be a big game on Monday night."

Game 4 of the Subway Super Series will resume on Monday, November 25th in Sudbury, Ontario, when Team OHL and Team Russia renew acquaintances.