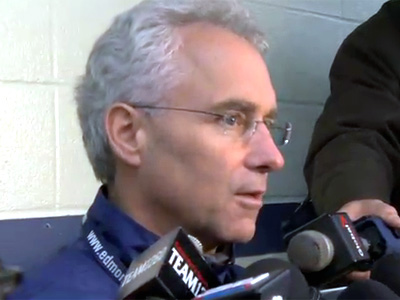 Edmonton - November 28, 2013 - With the Edmonton Oilers sitting in the basement of the Western Conference with a 7-16-2 record, one can't help but wonder why this team is sitting where they currently are in the NHL standings.

While their roster simply isn't good enough to be considered a legitimate playoff contender, this team should be nowhere near twenty-ninth place in a thirty team league.

Much was made of the Oilers decision to bring Dallas Eakins on board as the club's fifth different head coach in six years but to be perfectly honest, nearly every general manager will bring in their guy in when they take over an organization.

With that being the case, no one could really question Craig MacTavish's decision to bring in Eakins as his head coach.

That said, one can't help but wonder what this group might look like had management signed Tom Renney to a one year contract extension prior to the 2012-13 season. After posting a 57-85-22 mark during his two years as the Oilers bench boss, the masses would have argued that handing Renney anything other than a pink slip would have been a major mistake by Steve Tambellini and company. Whereas in my opinion, see here, I felt bringing him back for one more year was a no-brainer.

If anything, by dismissing the than 57 year old career coach and not addressing a single issue that hampered Edmonton's 2011-2012 roster, outside of adding a pair of rookies in Justin Schultz and Nail Yakupov, Tambellini set this group back at least a full year in its development. In my mind, Ralph Krueger did a decent job during his 48 game stint behind the bench but was ultimately put in a no-win situation from the outset.

The problems with the Oilers lineup were obvious but the former GM inexcusably did nothing to try and improve it. Instead he put it on his head coach, who let's face it, wasn't given the job with winning games as being his mandate. When this organization handed over the reins to Renney, after the disaster that was Pat Quinn, his job was to help develop the core young players on this team.

Frankly, it is pretty darn difficult to argue that he didn't accomplish exactly that. During his two years as Edmonton's head coach, both Jordan Eberle and Taylor Hall took huge strides forward in their game and Ryan Nugent-Hopkins had an outstanding rookie campaign, as Renney picked his spots when it came to using his youngsters. While some weren't fans of his approach to using the kids, which occasionally included myself, at the end of the day he knew exactly what he was doing.

Think about it for a minute. With these guys currently showing that they are in no way ready to do the majority of the heavy lifting for this club, how on earth would they have been ready a couple of years ago? To his credit, Renney stuck to his plan and sheltered his young players. He loosened the reigns as the season progressed but made sure he did not give them too much, too soon.

Jeff Petry took a huge step forward in his game, Devan Dubnyk was handed the starters role during the last half of the season, after struggling with consistency early on, and finally showed he might actually have what it takes to be a starting goalie in the National Hockey League. Defenceman Ladislav Smid had by far and away his best season in Oilers silks, while Sam Gagner had a very strong finish to the year after getting off to a very slow start due to injury.

Edmonton made huge strides in their special teams during the '11-'12 campaign, finishing third in the league on the man advantage and 14th on the penalty kill. Let us not forget that a season earlier, Edmonton owned the 27th ranked power play and were an absolutely dreadful 29th on the PK. Much of that turnaround has to be given to Renney and his coaching staff.

Again, no one should have been happy or satisfied with 30th and 29th place finishes under his watch. That said, he did his job but was still shown the door. Make no mistake, he was never going to be the head coach of this team when things started to turnaround, which Renney readily admitted on numerous occasions. He was a situational hire who, unceremoniously, had the carpet pulled out from under him. Plain and simple.

I said it back in March of 2012 and stand by it now. Tom Renney should have been given another year as the Edmonton Oilers head coach. Steve Tambellini should have went out and improved the roster and allowed his coach to continue developing these kids. Unfortunately none of that occurred and we are stuck with the scenario we currently have.

So now it is up to Dallas Eakins to try and teach these guys the "right way" to play. Was that not the point of hiring Renney in the first place? Instead of allowing things to simply work themselves out, management panicked and this group has regressed because of it. Is it fixable? Certainly but it will take more time and patience, which is something Oilers fans are simply tired of hearing.