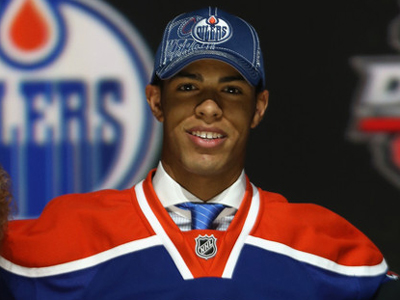 Edmonton - December 3, 2013 - In the grand scheme of things, you would have to think yesterday's disappointment will end up being nothing more than a blip on the radar screen for Edmonton Oilers prospect Darnell Nurse.

While not being selected as one of the final eight Canadian defencemen to audition for a spot to represent Team Canada at the upcoming 2014 World Junior Championship has got to be tough to take, my money is on last year's seventh overall pick using this as a motivational tool to become an even better player.

Hockey Canada can come up with as many reasons as they would like for not adding the talented rearguard to their 25 man selection camp roster but none of them make any sense.

Apparently the fact he wasn't great during a two game stint for Team OHL during the recently completely Subway Series and his tendency to go out and seek the big hit, didn't sit well with Canada's brass.

Never mind the fact he currently sits second in OHL scoring amongst defencemen, tops for all Canadian blueliners in the Ontario Hockey League, playing in all situations and captaining the West Division leading Sault Ste. Marie Greyhounds. By all accounts, Nurse has been lights out since being cut from the Oilers training camp in late September.

His skating ability has allowed Nurse to continues to excel at moving the puck up ice, especially for such a big man, while continuing to play his usual physical brand of hockey,. Yet for some reason, the kid was left off the roster in favour of Owen Sound defenceman Chris Bigras and Damon Severson of the Kelowna Rockets. Curious indeed, especially when Severson is not even the best Canadian blueliner on his own team, a title currently held by their eighteen year old captain Madison Bowey.

The other six names were no real surprise, in former Red Deer Rebels standout and current Minnesota Wild Mathew Dumba, the highly touted Aaron Ekblad of the Barrie Colts, Prince Albert's Josh Morrissey, Adam Pelcech of the Eerie Otters, the Winterhawks Derrick Pouilot and Edmonton Oil Kings captain Griffin Reinhart. While Reinhart is the sole returnee, on the backend, from the 2013 squad on the backend, the former fourth overall pick of the New York Islanders will miss the first three games of the tournament due to suspension he received during last year's tournament.

Some have already called into question head coach Brent Sutter's decision to include Bigras as part of his roster over the likes of Nurse, comparing it to Hockey Canada's inclusion of Portland's Tyler Wotherspoon at the 2013 championships in Russia. Just like last year, the event will be held in Europe, Malmo, Sweden to be exact, meaning a much a bigger ice surface.

With that being the case, the omission of Nurse from Canada's potential lineup becomes even more of a head scratcher. At eighteen years of age, the youngster unquestionably has a lot to learn but to leave him off the roster when he appears to be better equipped to deal with the situation Team Canada will be facing , it does appear to be more than a little perplexing.

Late last week, TSN's Craig Button appeared on Bob Stauffer's Oiler NOW radio show and said the following about the Oilers prospect.

"If there are seven better defencemen than Darnell Nurse, than Canada has no way to lose....they can't lose".

At the end of the day, should Team Canada rebound to win their first Gold Medal at the World Junior Championship since 2009, all will be forgotten and this whole Darnell Nurse situation will be nothing more than an interesting footnote.

However, should Canada stretch their run to five straight years without a Gold Medal, the doubters will certainly call into question why he wasn't part of the roster.