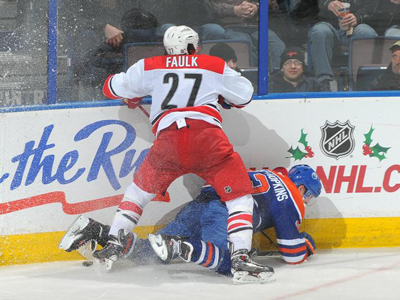 Edmonton - December 11, 2013 - Despite their very best effort to try and hand the Carolina Hurricanes an early Christmas present, the Edmonton Oilers took advantage of a questionable boarding call against Canes defenceman Justin Faulk, to eke out a 5-4 OT victory on what was a crazy evening of hockey over at Rexall Place.

Jordan Eberle scored the eventual power play winner, after the Oilers pissed away a pair of golden opportunities to put this one to bed during the third period.

Taylor Hall continued his recent hot stretch with a goal and an assist, while the quintet of Eberle, Andrew Ference, Sam Gagner, Ryan Nugent-Hopkins and Nail Yakupov all chipped in with two point efforts.

On far too many nights, this club has shown the inability to come out and dictate terms in their home rink. Unless of course we are talking about their annual beating of the Colorado Avalanche or Columbus Blue Jackets at Rexall Place, the Oilers never push the pace on home ice.

That wasn't the case last night.

Edmonton made the most of a seemingly disinterested and dead tired opposition, jumping out to a 3-1 first period lead. Early goals from Hall, Yakupov and Nugent-Hopkins had Oiler fans everywhere thinking this one had the makings of yet another goal scoring explosion from Dallas Eakins' crew.

They took it a step further in period two, as Jesse Joenssu slammed home a beautiful feed from Mark Arcobello at the 1:40 mark to make it 4-1. This one had laugher written all over it. Unfortunately for the Oilers, Carolina received their wake-up call and Edmonton did everything in their power to allow them back into a game that looked to be all but over.

Jordan Staal would give the Canes life, potting his seventh of the season, after a failed clearing attempt from Gagner was followed up by yet another missed assignment from the Oilers centre. From that point on, the Hurricanes started coming and Edmonton seemed almost perplexed as to what to do next.

An early third period penalty to Nathan Gerbe would give the Oilers their first power play opportunity on the night and a chance to put this one to bed. However, it would be Carolina who would cut the lead down to one, as Eric Staal would score an absolute gorgeous short-handed goal on a partial break, freezing Devan Dubnyk with a retro styled fake slapper and finish. It was 80's hockey at its finest.

Jordan Eberle would wear the goat-horns on this one, as his ill-timed pass to point man Philip Larsen led directly to the eighth of the season for the Hurricanes captain. With just over twelve minutes to go, Edmonton looked to be in deep trouble and on the verge of yet another collapse on home-ice.

Luckily for them, former first round draft pick Riley Nash decided to help his old team out by slamming Corey Potter into the end boards all of a minute and a half after Staal's short-handed tally. With ten minutes on the clock and staring at a full five minute power play, that should have been the end of it. Instead, they accomplished nothing on the man advantage and actually gave up better scoring chances than what they created.

After easily killing off Nash's major penalty, it was no shock to see the Hurricanes draw even mere seconds. Jeff Skinner's seeing-eye point found its way past a screened Dubnyk and just like that, we had ourselves a brand new game. Much like Staal's 4-3 goal, it was yet another turnover, this one courtesy of Hall, which played a huge role in the Canes grabbing the equalizer.

Nineteen seconds into overtime, Carolina would shoot themselves in the foot for a third consecutive time, as Faulk was whistled down for boarding, after drilling Nugent-Hopkins into the end boards. While on surface the play looked rather ugly, in all honesty, it was a bad call.

Both players were headed into the corner after the puck, when RNH came to a dead stop, with both players mere inches away from the boards. It was definitely a tough break for the twenty-one year old, who had been solid all night long and led Hurricanes skaters with over twenty-five minutes of ice-time.

After watching his four forward power play unit cough up a third period shorthanded marker, Eakins took it a step further in overtime, sending the quartet of Eberle, Gagner, Hall and Nugent-Hopkins out to try and win it. In the end, they got the job done.

Watching this team pull off their Jekyll and Hyde routine in mid-game was something else but for a squad that currently sits in the basement of the Western Conference standings and are a mind-boggling fifteen points out of a playoff spot, grading wins shouldn't be part of the equation. Let's not kid ourselves, these next four months could get pretty bump.

At the very least, the Edmonton Oilers are finally starting to give their fans a product that is worth watching on nightly basis. Expecting anything more than that for the remainder of the 2013-14 campaign, would be wishful thinking. Enjoy the two points everyone and bring on the Boston Bruins.