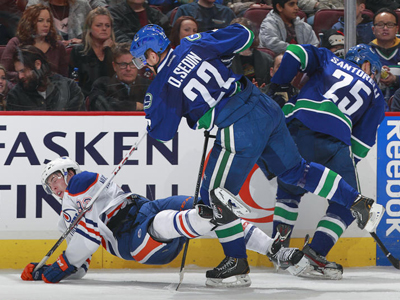 Edmonton - December 14, 2013 - While last night's 4-0 result against the Vancouver Canucks may not have been what fans of the Edmonton Oilers were hoping for, at this stage of the game, the result is truly irrelevant.

Thirty-four games into their 2013-14 campaign and the Oilers still find themselves sixteen points out of a playoff spot and eight back of the tenth place Dallas Stars…with the Stars having played four fewer games.

At best, this group will be lucky to push for tenth place in the Western Conference by seasons end but even that will likely be a stretch.

From here on in, it has nothing to do with wins and losses and everything to do with the word Oilers fans have heard for far too many years…progress.

After coming out with what was by far and away their finest performance of the season on Thursday night against the Boston Bruins, no one should have been surprised to see a very good and well rested Canucks side dominate Dallas Eakins' crew.

However, on the strength of a solid opening two periods from Devan Dubnyk, Edmonton had every chance of pulling off the upset. Unfortunately for them, the floodgates opened in the third and they had nothing left in the tank.

There are those who will argue last night's effort wasn't good enough but I'm not so sure that was case. Let's not forget the Oilers are last in the Western Conference and the Canucks are currently the hottest team in the NHL. One team is very good, while the other is still trying to figure out who they truly are.

In my opinion, it wasn't so much about a lack of effort but rather a lack of finish. Edmonton did not generate a ton of chances but had some wonderful looks on Roberto Luongo over the opening forty minutes and came away emptied handed. They screwed up a pair of two-on-one breaks without even registering a shot on goal and were spoiled on a third by a splendid poke-check from Luongo on Ales Hemsky.

The Canucks used the fact Edmonton were dead tired to their advantage and punished the pace from the drop of the puck. John Tortorella is no dummy. Facing a team like Boston takes a ton out of the best of teams, never mind a squad like the Oilers. Vancouver forechecked them into the ground, from start to finish, and Edmonton simply had no answer.

That said, the Oilers were one shot away with twenty minutes to go. As previously mentioned, much of that was due to Dubnyk but last time I checked, that s what your goaltender is supposed to do. In the end, Edmonton's best players couldn't get it done but that doesn't mean the collective group didn't show up. They were just beat by a much better team.

The true test for these Oilers will start on Sunday night in Anaheim.

Over the next week, Edmonton will play every other day and face some pretty stiff completion. They get the Ducks, Los Angeles Kings and Colorado Avalanche on the road and follow that up with a home date against Ken Hitchcock and the St. Louis Blues next Saturday night. Not exactly the easiest of the schedules but one that should tell us quite a bit about the players currently on this roster.

Over these next four games, there is absolutely no reason for this group to not come out with the same sort of game they treated their fans to on Thursday night at Rexall Place. The bar has been set, now it is up to them to go out and prove that performance wasn't just a one-off. The end result may not matter but how they play surely will.

It may only be mid-December but the time to sink or swim has arrived.