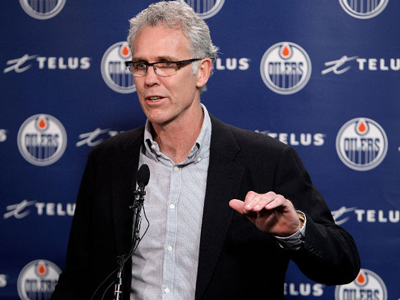 Edmonton - December 15, 2013 - Since announcing the trade of backup/third string goalie Jason LaBarbera to the Chicago Blackhawks, rumours have started making the rounds surrounding the Edmonton Oilers.

We have heard that Linus Omark may finally be on his way out of town and according to Bruce Garrioch of the Ottawa Sun, Craig MacTavish and company may have interest in Carolina Hurricanes netminder Justin Peters.

For Omark's sake, let's hope there are some truth to these rumblings, as the guy is to good to be playing in the AHL but at the same time, not a good fit for the Oilers current situation.

As far as Garrioch's take on Edmonton possibly "addressing their goaltending" with the likes of Peters, it's nothing more than grasping at straws.

While I don't doubt for a minute that Canes GM Jim Rutherford has likely reached out to MacT, on more than one occasion, to remind him he has a goalie or two that could be had for the right price. That said, not exactly sure how a 27 year old career backup would be an upgrade on what they already have.

The fact Peters has been able to post a 2.16 GAA and .929 SV% in seventeen appearances and the Hurricanes are openly shopping him, tells you all you need to know. Carolina took him in the second round of the 2004 NHL Entry Draft with the thirty-eighth overall pick, twenty-four picks after Edmonton had called the name of one Devan Dubnyk.

Considering the Oilers rookie GM showed little confidence in Dubnyk being his #1 guy heading into the 2013-14 campaign, how on earth would Peters be the answer? Dubnyk has had by far and away the better career and has proven to be a decent NHL starting goalie, albeit one that allows terrible goals against at the worst possible moment.

We are talking about a guy who has seen action in all of 64 games since making his debut with the Canes back in 2009-10. If MacTavish were to consider making such a move, even for a minute, this organization would need to look at bringing in a new general manager...and very quickly.

There is a very good and simple reason as to why the Oilers brought Ilya Bryzgalov on board when they did. As a collective group, they had lost faith in Devan Dubnyk's ability to help carry the load for what is still young and developing roster. Nothing more. Nothing less.

Bryzgalov has been very good since coming to the Alberta capital and will be given every opportunity to showcase himself as still being a viable option for team's looking for a starting goalie..If all goes well, he may very well find himself back in Edmonton for the 2014-15 season, which in mind, is exactly what Craig MacTavish is banking on happening..

He could go shopping via free agency next summer but considering what might be available and the possible cost, would not signing Bryzgalov to a three year deal and hope he turns into Dwayne Roloson 2.0, not make the most since?

In fact, I would be willing to bet a rather hefty chunk of change, if the Edmonton Oilers are talking to the Carolina Hurricanes about a starting goalie for the foreseeable future...his name would be Cam Ward and not Justin Peters.