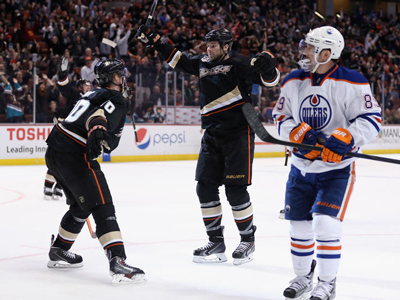 Edmonton - December 16, 2013 - Heading into their matchup with the Edmonton Oilers on Sunday night, the Anaheim Ducks not only held down top spot in the Pacific Division but were also the only team in the NHL to have lost a game on home ice in regulation time.

To their credit, the Oilers gave it their all but in the end fell just short, dropping a 3-2 decision to Bruce Boudreau's surprising crew.

Former Oiler Dustin Penner continued his outstanding campaign, scoring the game-winner with just over three minutes to go, beating starter Ilya Bryzgalov high to the glove side for his tenth of the season.

As has been the case on numerous occasions for Dallas Eakins' side this year, the result would ultimately come down to another ill-timed turnover in the defensive end of the rink.

While there is no shame in losing to a team that has managed to post a near perfect 13-0-2 mark over their first fifteen appearances in the friendly confines of the Honda Center, this act has to be getting old for everyone inside that dressing room. After going on a 7-3-1 run over the previous eleven outings, Edmonton has now lost three straight against to three of the leagues finest squads.

Some were hoping this current stretch of games could be used as a sort of measuring stick. That's all well and good but trying to gauge their progression by the amount of wins they can string together is frankly idiotic. They have dropped three games in four nights, falling to the Ducks, Vancouver Canucks and Boston Bruins.

Edmonton was in all three games heading into the third period but fell short each and every time. While they had nothing left in the tank against the Canucks, this group more than held their own against both Anaheim and Boston. In my mind there is progression there but until they can improve the personnel on this roster, this team is going to continue to lose hockey games.

Obviously, Craig MacTavish needs to improve the mix of his forward group but as they are currently structured, talent alone will allow them to be competitive on most nights. The same can't be said about this team's situation on the blueline. Watching the Oilers rookie bench boss force feed minutes to veterans Anderew Ference and Nick Schultz or the overmatched Philip Larsen, who was thankfully cut back down to just over seventeen minutes on Sunday night, is tough to do.

However his hands are quite literally tide. Eakins can either bring up kids like Oscar Klefbom and/or Martin Marincin to learn the ropes in this absolute mess or continue going the route of swapping one iffy NHL player for another. Neither will improve what's going on out on that ice, making the want for a bigger number in the win column nothing more than a pipedream. It may suck for everyone involved, be it player or fan that is the reality of the situation.

That is not to suggest what troubles this team is solely on their blueline, as the forward group continue to turnover pucks and blow assignments, as a collective unit, on a far to regular basis. So when we see Sam Gagner score the game tying goal in the third period but also play apart in two of the three goals against, none of us should be real surprised.

At the moment, this team is a colossal disaster in certain areas of the game and nothing will be done in the immediate future to help change that. All they can hope to accomplish over their final forty-seven games of the season is to give it their all on a nightly basis and see if they can eliminate many of the deficiencies in their overall game.

Considering the vast majority of mistakes athletes make occur because of over-thinking certain situations or simply trying to do too much, the chances of that happening seem unlikely. Best case scenario would see them riding the coat-tails of Bryzgalov and/or Devan Dubnyk, my money would be on the veteran Russian netminder, to hopefully eliminate much of the chaos that is currently present.

If this group could simply get comfortable in their own skin and slow things down, they would eliminate quite a few of their problems. That said, expecting them to not be schooled by teams who are far more disciplined, experienced and physically stronger, may be asking a little too much.