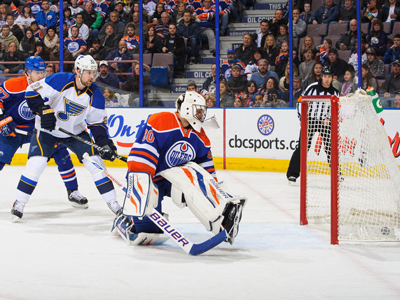 Edmonton - December 22, 2013 - At what point does a result like last night's 6-0 loss to the St. Louis Blues no longer become acceptable?

While there is no shame in losing to the premier teams in the National Hockey, getting blown out on home ice as often as this edition of the Edmonton Oilers have this season, simply can't continue.

Despite dominating much of the opening twenty minutes of play and heading into the third period down only 2-0, this team found a way to not only lose but leave fans shaking their heads in disbelief.

Netminder Ilya Bryzgalov had what was by far and away his worst performance in Orange and Blue, surrendering six goals on thirty-three shots, including a pair of absolute stinkers.

Dallas Eakins' side took charge of this one early on but were unable to sneak a puck behind starter Brian Elliott. To the Blues credit, they would take full advantage of an awful Oilers line change, as Chris Stewart hammered home his first of three on the night at the 11:57 mark, mere seconds after another failed power play attempt. It was yet another costly brain cramp but one that should not have killed this team.

They may have been down one but Edmonton held a 14-5 advantage on the shot clock and were within a shot of being back on level terms. Unfortunately, it was a complete turn around over the final forty minutes, as the Oilers went from being in complete control to looking absolutely lost in the blink of an eye.

Another missed assignment led to the Blues stretching their lead to 2-0, as Brenden Morrow finished off a tic-tac-toe passing play on what looked to be nothing more than a harmless three on three rush. Not many teams come back from two goals down to beat the Blues but giving it a half-hearted effort would have been nice to see.

Within a span of six minutes that two goal deficit turned into a five goal bulge, as this group allowed themselves to simply be walked over. Having your goalie allow a pair of bad goals during that same stretch surely didn't help but this team mustered a total of nine shots on goal over the final two periods.

On far too many nights, this lineup has shown next to no interest in doing what was necessary to compete and last night was no different. After watching this group claw their way back from an early hole against the Boston Bruins, just over a week ago, this group looked as though they might finally be headed in the right direction.

Apparently that was nothing more than a mirage. As they are currently structured, this roster can not compete on a nightly basis in the National Hockey League. It's no longer even debatable. No one should be shocked by the Oilers dropping six straight against some of the NHL's elite but to show the lack of fight they continue to show, especially at Rexall Place, is simply mind-boggling.

I am pretty sure this team doesn't enjoy losing hockey games but I am equally confident the vast majority of these players don't even see the point of putting in the necessary work to try and get out of this never ending funk. In my mind, that is the most disappointing and troubling thing with what is going on in good ol' Oil Country.