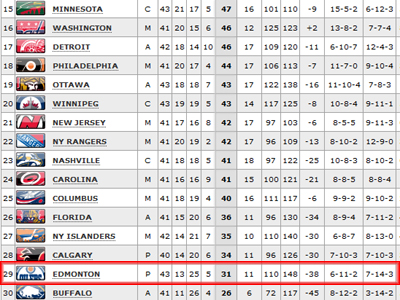 Winnipeg - January 3, 2014 - Sadly, I don't think so...

When I started this column I had intended to write about the Edmonton Oilers, Winnipeg Jets, and hockey topics in general. I have posted exactly one article on the Oilers and other topics, and primarily about the Jets. I'm not sure exactly why that is, some of it is time constraints, but mostly I believe I haven't wanted to write about the Oilers. They have been bad, incredibly bad, discouraging bad. They haven't taken a step back this year, they have fallen off a cliff. I wrote in the pre-season they were in big trouble because of their lack of depth at center, turns out that problem is repeated throughout the ENTIRE roster.

This is going to get worse I fear. Players are about to start turning on each other, the coaches, and the management. Losing is death in pro sports. Winning cures all that ails, but they cannot win enough to change the plague that is happening to this team. The fans have had enough too, recently throwing a jersey on the ice and bombarding the local radio and chat boards with visceral comments about firing and trading everyone. They have emerging young talent for sure, but you cannot win in pro sports leaning too hard on young players. It is not wise to make young players carry the pillars of your franchise, the load is too much to bear.

I believe Craig MacTavish is a bright guy, with a great future as a GM in the NHL. He has experience, education, and an eye for talent. He made several good moves this past summer but you cannot make enough change in one off season to improve the fortune of this program. OK, well you could if you can magically add a "Shea Weber" type. The problem is every franchise is chasing that dream. The problem he faces is that he is still a rookie GM and every team is trying to kill him in a deal. He did very well in the Perron deal, not so well in the Smid deal. The jury is definitely out on the coach he hired. Most people felt that Ralph Krueger was a nice man and deserved a better fate. Was he the right guy? Not sure, we'll never know. Would the team have a better record at this very moment had he stayed, I'm starting to believe that yes it would. Say what you want about Krueger, he had amazing special teams... Maybe Eakins is the right guy to take them to the next level, but its hard to judge right now because he has a shortage of real NHL defenceman. What's worse is Eakins rubs people the wrong way and that is not helping the public persona of this team either.

I believe every Oiler fan understands at this point that their defensive core is weak. Not NHL level weak. Historically weak. Bad. There are some useful pieces for sure, but they are all playing a level (or two) too high in the line-up. Tough to gauge anything when you can't defend. The forwards are skilled, but on average are small and do not engage physically at all. The goalies, well...I don't expect either to be back next year. Who will be playing goal next year? No idea, I'm not sure the management know either.

So here is the best part. It's time to evaluate...again. That means players moving out, but don't expect NHL talent to return until the summer. Expiring contracts and veterans will be moved out, with futures coming back. The OKC shuttle, which is already heating up, will get white hot. Expect to see anyone with a pulse to get a first hand evaluation in Edmonton. What does that equate to? More losing. Chin up Oiler fans and remember there are always other things to do. Go watch the Rush, Oil Kings, or U of A. All winning programs and good value for your money. Take the opportunity to attack your "honey do" list. Take your spouse out for dinner and a movie. Enjoy this time to rediscover all the great things life has to offer. Does that sound too Pollyanna? I admit it does but watching this team is making me want to break things...

There I feel better.