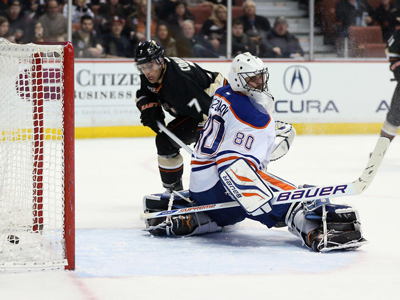 Edmonton - January 4, 2014 - About the only difference between the Edmonton Oilers 5-1 defeat to the San Jose Sharks on Thursday evening and their 5-2 loss to the Anaheim Ducks last night was who ultimately did the last place Oilers in.

They were outplayed in both games from start to finish but while the Sharks big boys did the damage at the Shark Tank, it was the likes of Andrew Cogliano, Kyle Palmieri and Ben Lovejoy who were the difference in Anaheim.

For the second consecutive outing, Edmonton was man-handled by yet another Pacific Division opponent, as Anaheim had the puck all night long in piling up a massive 38-17 advantage on the shot clock.

Much like Devan Dubnyk was 24 hours earlier in San Jose, netminder Ilya Bryzgalov did his best to keep his team in it as long as he could but would eventually crack, allowing a couple of goals he would likely love to have back.

Simply put, when you are being as thoroughly dominated as the Oilers have been for much of the past three and a half weeks, your goaltenders are going to allow the odd stinker to get past them. When you are routinely giving up 35+ shots a night and seemingly never leave your end of the ice, the chances of winning hockey games are negligible at best.

So it should come as no real surprise that Edmonton has now posted a 2-8-2 record over that time frame. After going a combined -9 against the Sharks, the trio of Taylor Hall, Ryan Nugent-Hopkins and David Perron posted an even uglier -10, as they had no answer for the Ducks checking line. In fact, outside of Nail Yakupov scoring for the second consecutive night it was a night to forget for the team in Orange and Blue.

This was OIlers second trip in just over two weeks to the Honda Center and on both occasions, Dallas Eakins' side has managed to keep the likes of Ryan Getzlaf and Corey Perry in check. While Getzlaf did setup Dustin Penner for the late third period winner on December 15th, the Ducks power duo were completely held off the scoresheet this time around. Heck, they didn't even allow Teemu Selanne to light the lamp, which the Finnish Flash has basically done for fun against the Oilers, throughout his Hall of Fame career.

This is the most troubling part in all of this. They kept Anaheim's top players at bay and were still dominated, both from a possession standpoint and on the scoreboard. With all due respect to Andrew Cogliano, the fact he was the best player on the ice and by a very wide margin, is a huge problem.

These were two points that were there to be had and the Oilers best players were unable to take their game up a notch against the Ducks role players. Under normal circumstances, one would have to be quite concerned but with this group, this almost seems like par for the course. Every time out, it seems as though there is some new issue and or concern.

The scary part about all of this, there doesn't appear to be any end in sight to what currently ills this edition of the Edmonton Oilers. With that said, I am quite certain April 12th can't come soon enough…be it for the players, organization or fans.