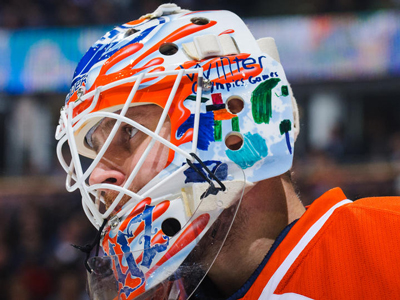 Edmonton - January 9, 2014 - Let's be honest here. the Edmonton Oilers and Ilya Bryzgalov were quite literally forced upon one another.

While the two sides did have discussions surrounding the veteran netminder possibly joining the Oilers prior to the 2013 NHL Entry Draft, ultimately nothing came from those talks.

Edmonton started the season with a goaltender their general manager wasn't sold on as #1, while Bryzgalov started the year off on the unemployment line.

If the Oilers were truly sold on the Russian puckstopper as being their guy, he would have been in Orange and Blue prior to training camp.

Just like Bryzgalov would have readily signed to come play goal in the "North Pole" if he though Edmonton was a good fit for him and his family.

The opportunity for both sides to come to some sort of agreement was staring them both in the face and yet nothing came of it.

Fast forward to November 1st and the Oilers found themselves buried in the basement of the Western Conference with an absolutely horrifying 3-9-2 mark. While their record wasn't solely on their goaltending, it was the single biggest factor as to why this team got off to the start they did.. The duo of Devan Dubnyk and Jason LaBarbera were downright awful and Craig MacTavish had seen enough.

After being unable to secure an NHL gig a month into the 2014-15 campaign, Bryzgalov had to have been getting worried. While money wasn't an issue, after being bought out by the Philadelphia Flyers for a cool $23 million, getting another opportunity to prove he could still be an NHL goalie apparently was.

So come November 8th, 2013, both sides agreed to try one another on for size.

Since making his debut appearance in a relief role against the Chicago Blackhawks on November 25th, Bryzgalov had, for the most part, given the Oilers a chance to win every time he had been in between the pipes. Unfortunately, that all started to change following Edmonton's 4-3 shootout loss to the Flyers on December 28th.

To that point, the Oilers had gone 3-4-1 in his first eight starts and the former second round pick of the Anaheim Ducks had not only been coming up with the timely stop but had all but eliminated that back breaking bad goal against, which both Dubnyk and LaBarbera had been allowing with far too great a frequency. However something changed as the end of the calendar year approached.

Bryzgalov was absolutely fantastic on New Year's Eve against the Phoenix Coyotes but the Oilers blew a 3-1 lead and a couple of the goals against were iffy at best. At the time, it seemed like no big deal. It happens to every goalie from time to time and if he hadn't stood on his head during long stretches, Edmonton would have never even been in that game.

Small problem…it hasn't stopped. Over his last three starts, Bryzgalov has allowed twelve goals against, with arguably four or five of them being of the ugly variety and ill-timed to boot. Not exactly what you want to see out of your #1 goalie…which is exactly how head coach Dallas Eakins has been using him.

The thirty-three year old has started nine of twelve since returning from a neck injury and has clearly been given the opportunity he was looking for, when he agreed to come to the Alberta capital. Be it in Edmonton or another National Hockey League city, come 2015-16, Ilya Bryzgalov wants everyone in the hockey world to know he has more than enough gas left in the tank.

However, should this stretch of poor play continue for much longer, he could very well be playing himself out of a potential contract. To be fair, it has pretty much been a week or so of poor play but with the predicament both he and the Edmonton Oilers currently find themselves in, time is not on either one's side.

After Friday night's tilt against Sidney Crosby and the Pittsburgh Penguins, the Oilers head out on a four game road trip that kicks off on Sunday night in Chicago against the mighty Blackhawks. The following three games are by far and away the easiest stretch of opponents they will face prior to the Olympic break.

While games in Dallas, Minnesota and Winnipeg are far from guarantees, it is surely better than what they have had to face over the last number of weeks. This team needs one of their goaltenders to step up, seize the moment and steal them a couple of games. While the organization may want Bryzgalov to be that guy, he simply may not be up to the task.