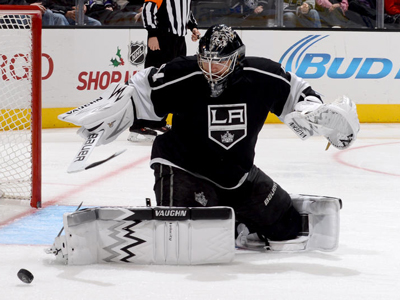 Edmonton - January 16, 2014 - Wednesday afternoon proved to be a rather busy time for the Edmonton Oilers Craig MacTavish.

The rookie GM managed to pull off not one but two deals in his ongoing quest to improve his club's NHL roster.

In shipping out goaltender Devan Dubnyk and a third round pick in the 2014 NHL Entry Draft, Edmonton were able to acquire a veteran presence in Matt Hendricks and a potential goaltender of the immediate future in Ben Scrivens from the Los Angeles Kings.

While many seemed to be rather unhappy with the return MacT was able to secure for his former starting goaltender, the fact of the matter is he had absolutely zero trade value. Considering Dubnyk is a pending free agent who is quite possibly having the worst season of any goaltender in the National Hockey League, what were people expecting?

For a team like the Nashville Predators, taking a flyer on the former 2004 first round pick made perfect sense. With Pekka Rinne having already missed a large chunk of the season and no real timetable for his return, Dubnyk is a perfect short-term solution. From an Oilers standpoint, they wanted to add some "grit and experience" into their bottom six and Hendricks fits that bill.

The former fifth round pick will likely slide onto the Oilers fourth line and assume a role on Edmonton's struggling penalty kill. His arrival all but guarantees the club will not be re-signing either Ryan Jones or Ryan Smyth, as they continue to focus on reshaping their bottom six forward group with a different kind of player.

Does the fact Hendricks is set to earn $1.85 million over each of the next three seasons a bit of an eyebrow raiser? Sure it is but with the cap going up next season, it's frankly a non-issue…just as the Oilers eating half of Dubnyk's remaining contract was no big deal.

At the end of the day, if Hendricks comes in and helps bring some stability to the bottom six over the next couple of years this will go down as deal that was well worth making. If for whatever reason it happens to not workout, what did they really give up? Outside of money, you would have to say nothing. Dubnyk wasn't being brought back so there was no risk in making the move.

When it comes to Scrivens, in all honesty, I have no idea what the Oilers have. Could he be the long term answer this organization has been dying to find for some time? Perhaps but he could just as easily turnout to be nothing more than your "A" typical backup netminder. He has looked real good in a limited role with the Los Angeles Kings this season but was nothing more than average during his first thirty NHL appearances with the Toronto Maple Leafs.

With the jury still out on the Spruce Grove native, the Oilers clearly felt taking him for a test drive over the remainder of the 2013-14 campaign was worth the risk of coughing up a mid round draft pick. If he were to pan out, there is probably a very good chance he signs here for a very reasonable rate…something which may not have occurred via free agency.

The fact he already has a history with head coach Dallas Eakins can't hurt and if he plays well, don't be surprised to see the Oilers move Ilya Bryzgalov at the Trade Deadline, in an attempt to recoup the pick they parted with to grab Scrivens from the Kings. One would have to think, the twenty-seven year old will be given every opportunity to prove his worth over the coming weeks.

The Edmonton Oilers have exactly thirty-three games left on their schedule and currently find themselves in the basement of the Western Conference standings. To this point, they have accumulated all of 35 points from their first 49 games and seem destined to finish with a top three pick at this summer's NHL Entry Draft.

Clearly no one is happy with how this season has gone but it is the reality of the situation for Craig MacTavish and nothing he does in the here in now will help change that. That said, standing pat was not really an option and if nothing else, it has allowed the first year GM to use this opportunity to start changing the complexion of his hockey club.