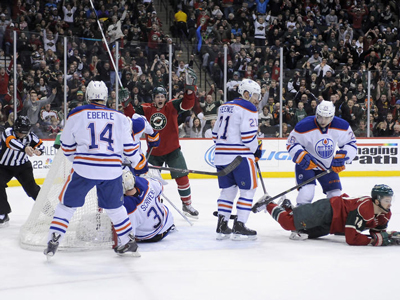 Edmonton - January 17, 2014 - The Edmonton Oilers are now fifty games into their 2013-14 campaign and following their disappointing 4-1 loss to the Minnesota Wild on Thursday night, this club has now lost a league worst thirty games in regulation time.

While losing has almost become second nature for this group, the way in which they fell to a badly undermanned Wild side, has to be concerning to both head coach Dallas Eakins and general manager Craig MacTavish.

The day after watching their GM trade away Devan Dubnyk to the Nashville Predators and bring in the duo of Matt Hendricks and Ben Scrivens, one would have thought the Oilers would have been raring to go.

Instead they came out with what was arguably their worst performance of the season. If there was ever a group of players that appeared to be more disinterested in playing a game of hockey as Mr. Eakins's crew was last night, I haven't seen one on some time.

Frankly, it was the epitome of mailing it in.

Outside of a handful of productive shifts from Jordan Eberle, the Oilers top two lines were invisible from start to finish. The first line of Sam Gagner, Taylor Hall and Ryan Nugent-Hopkins were severely outplayed by Minnesota's checking trio of Kyle Brodziak, Matt Cooke and Justin Fontaine. For one of the few times this season, Hall was a complete non-factor and on those rare occasions #4 isn't going…this team has next to no chance of winning hockey games.

Scrivens got a firsthand look of what it's like to play behind the Oilers in his debut. While the former Toronto Maple Leaf was left to fend for himself on more than a couple of occasions, stopping twenty-nine of the thirty-three pucks fired his way, he did allow a stinker to get by him when the game was still tied at one. Unfortunately, this has become sort of a calling card when it comes to the Oilers and their goaltenders.

As for Hendricks, the veteran forward found himself on Edmonton's third line with Boyd Gordon and David Perron, taking the spot of inured winger Ales Hemsky. The former Washington Capital was given plenty of opportunity by his new head coach, seeing over sixteen minutes of ice-time and leading all Oiler forwards in penalty killing time. The newly formed trio was by far and away the visitors most effective line on the night and Hendricks delivered his usual robust style of game. In short, he came as advertised.

Defenceman Martin Marincin had what was easily the worst game of his young career, playing a starring role in two of the Wild's four goals and looking out of sorts for much of the evening, That said, the lanky defender has come a long way in his twelve appearances this season and has already managed to solidify a spot for himself inside Edmonton's top four. To be completely fair, no one is totally sure what that says about the young Slovak's overall game but it sure says a lot about the state of the Oilers blueline.

Perhaps the most unusual play of the evening came with just over a minute to play in period two, when Cooke hammered Nail Yakupov with what was a clean hit along the Minnesota blueline. The hit would lead directly to Fontaine turning what was a tie game into a two goal cushion for the home side heading into the intermission. The play in question surrounded Yakupov's decision to stay down on the ice, rather than trying to get up and make his way to the bench for a line change.

The former first overall pick decided to stay down but promptly jumped to his feet and walked off the ice under his own power and towards the Oilers dressing room, after watching his goaltender fish the puck out of his net. Not exactly the best way in the world to go about making a good impression on either your coaches or teammates but that was the route the youngster chose to take.

That said, the fact no one on this roster even looked funny at Mr. Cooke immediately following the goal or at any point during the third period of a game that was basically over, tells you all you need to know…especially when you take into account the fact Yakupov did not return for the third period.

All and all it was yet another miserable night for the boys in Orange and Blue against their former Northwest Division rival. Over their last twenty-two trips to the Xcel Energy Center, the Oilers have won just two times. Does anything else really need to be said?