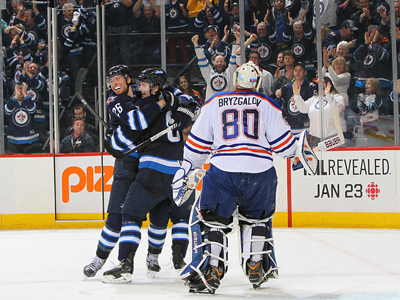 Edmonton - January 19, 2014 - What can you say that hasn't already been said about the Edmonton Oilers during the 2013-14 season.

As the losses continue to pile up, one can't help but wonder just how bad this might get for Dallas Eakins' crew.

On a day in which goaltender Ilya Bryzgalov was simply outstanding and the Oilers Taylor Hall bounced back from what was easily his worst performance of the year, Edmonton still managed to cough up a third period lead, in dropping a 3-2 overtime decision to the Winnipeg Jets on Hockey Day in Canada.

Defenceman Jacob Trouba played the role of hero, scoring twice, including the OT winner, as the Jets improved to 3-0 under new head coach Paul Maurice.

While the Oilers finished off what was yet another awful road trip, heading home with their typical 0-3-1 mark and have now lost seven straight away from Rexall Place.

Through forty minutes of play Edmonton held a 1-0 lead, courtesy of Jordan Eberle's second goal in as many nights and a solid opening two periods from their starting netminder. The game was there for the taking but once again, it was the power play that ultimately let this team down.

After watching Hall draw his third of four minor penalties on the afternoon, the Oilers came out and promptly gave up their league worst ninth shorthanded goal and Winnipeg life. Anton Belov started what was a comedy of errors with a brutal dump in that would quickly turn into Trouba tapping home his sixth of the year into a wide open net.

When you see the Jets rookie blueliner and Andrew Ladd both standing on the edge of the Oilers crease, without a single white jersey near them but three either next to or staring at Blake Wheeler in the corner, one can't help but shake their head and have a chuckle. If this were an occasional occurrence it would be one thing but this has been happening all season long.

Mark Scheifele would give the Jets their first lead of the afternoon midway through the third, after walking out from the corner and banging home his own rebound past a stunned Bryzgalov to make it 2-1. While most will point to Jeff Petry as the goat, the biggest culprits on the go-ahead marker were Boyd Gordon, Martin Marincin and David Perron.

To their credit, Petry and Perron would combine to get the Oilers back on level terms with exactly two minutes left on the clock, as the former St. Louis Blue re-directed his eighteenth of the year behind a helpless Ondrej Pavelec for his first goal since New Year's Eve. Unlike previous games, Dallas Eakins crew didn't fold their tent and go quietly but in the end it didn't matter.

Watching his team completely self-destruct on Trouba's overtime winner could not have been easy for the rookie bench boss to stomach. Be it Petry's awful clearing attempt, Sam Gagner's inability to recognize the severity of the situation in the D zone or witnessing a 215 pound Belov being catapulted into the his own net by a 19 year old kid. The entire sequence was absolutely brutal to watch but it also summed up the Edmonton Oilers season to perfection.