| | |
| --- | --- |
| | |
Ales Hemsky and the Oilers will part ways prior to the NHL Trade Deadline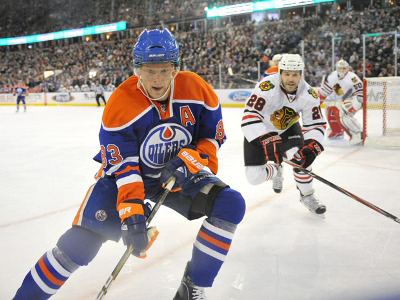 Edmonton - January 20, 2014 - While Ales Hemsky sits on the sideline nursing a sore ankle, one can't help but wonder what the future might hold for the long time Edmonton Oilers winger.

The smart money would be on general manager Craig MacTavish moving the talented Czech prior to the NHL's March 5th Trade Deadline but some seem to feel he could just as easily remain in the Alberta capital and sign yet another contract extension to stay in Orange and Blue.

As good a player as Hemsky is, the chances of him returning for the 2014-15 campaign have to be minimal at best.

MacTavish will certainly have trouble getting anything close to true value for a pending unrestricted free agent who has become injury prone and carries a $5 million ticket to boot. That said, getting some sort of return sure beats the alternative of watching him walk away for nothing in the off-season.

The vast majority of the pro-Hemsky crowd point to head coach Dallas Eakins being a big fan of the former thirteenth overall pick but let's not forget both the player and club agreed to part ways last summer. The only reason #83 is still here, is because MacT couldn't find a willing dance partner.

Unless you haven't been paying attention, the Oilers GM has made a point of moving guys who he feels won't be part of the solution moving forward. You will likely never find a bigger supporter of Shawn Horcoff than MacTavish but that didn't stop the rookie general manager from sending the veteran centre to the Dallas Stars prior to the start of training camp.

With that being case, why on earth would the eleven year vet even consider the possibility of an extension? From the player's standpoint, there is zero benefit in remaining an Oiler. Hemsky is undoubtedly looking at a substantial decrease in pay, regardless of where he ends up, so why not go to a team where he would actually have a chance at winning? Never mind making the playoffs, Ales is the sort of player elite teams would jump at signing…if the price were right.

Over the last number of years, there have been more than a few Oilers fans who have questioned his level of effort but in my mind, those people are out to lunch. Some may not like his style of game, which is all well and good but questioning his try and want to win is downright idiotic. Over the past decade, there has arguably been no Oiler player who has continually gone to those "tough areas" on the ice as Hemsky and he has done so for the sake of team. Unfortunately it hasn't turned into wins for the club and it has cost the player more than a few games on the injured list.

A change of scenery would probably do Hemsky a world of good and by removing both he and Ryan Smyth from the equation, it allows management to bring in an entirely different leadership group into that dressing room…something Craig MacTavish has alluded to on more than one occasion. The word change is the key in all of this and it all but guarantees Ales Hemsky will be in a different NHL city come next season and the Edmonton Oilers won't necessarily be a better team for it.


3,468 Stories & Growing Daily...

To date HometownHockey.ca has posted a total of 3,468 hockey stories!

Be sure to check out our Columnists archives or, why not Contribute a Story yourself!



HometownHockey.ca

offers a very generous revenue sharing opportunity for our Columnists. If you are interested in learning more details about writing for us, please send us an

EMAIL.
Click on Photo or Story Title for more info
HometownHockey.ca News Database Last Updated:
Apr. 28, 2022 @ 11:52 AM EDT