| | |
| --- | --- |
| | |
Oilers: Dubnyk's struggles have followed him to Music City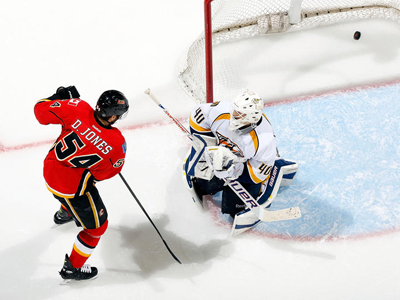 Edmonton - January 26, 2014 - In a perfect world, former Edmonton Oilers netminder Devan Dubnyk would love to simply close his eyes and forget the 2013-14 campaign ever took place.

The 2004 fourteenth overall pick not only blew a golden opportunity to prove he was a legitimate #1 NHL starter but was ultimately sent packing to the Nashville Predators in exchange for veteran role player Matt Hendricks.

As disappointing as the opening three and a half months of the year were, Dubnyk appeared to be handed yet another lifeline to try and salvage his season.

With Pekka Rinne on the shelf for the foreseeable future, the Preds were in desperate need for a short-term solution in between the pipes.

While the tandem of Carter Hutton and Marek Mazenec have been serviceable since the former Vezina Trophy nominee was placed on injured reserve, both GM David Poile and head coach Barry Trotz felt they needed to add a veteran goaltender for the stretch run. Clearly they believed the Oilers former #1 fit the bill but if his first two appearances in Predators silks are any indication of what they can expect, the move could prove to be counterproductive.

Many still view Nashville as one of the premier defensive sides in the game but that really hasn't been the case since the departure of Ryan Suter. After being a top ten team the previous two seasons in goals against, 2013 brought a nasty nose dive down the leaderboard.

Even with Rinne seeing action in forty-three of the Preds forty-eight games, they still finished twentieth in goals against and at the moment, Nashville sits twenty-first for the 2013-14 campaign. Is some of that due to their stopper having appeared in just nine games? It certainly does but the numbers aren't that different from the previous season.

Rinne did have somewhat of an off year in 2013 but that only strengthens the argument of the Predators not being near as good a defensive side as they were during the Ryan Suter/Shea Weber era. That said, many still felt Dubnyk would thrive in a more "defensive minded" system but so far that hasn't been the case.

He allowed five goals in his debut against the Colorado Avalanche on January 18th and another four in a shootout loss to the Calgary Flames on Friday night. Nashville dropped both games and between the two outings, Devan allowed four or five soft goals against.

Following the game against the Avalanche, Trotz hinted at Dubnyk having picking up "some bad habits in Edmonton" and Oilers fans everywhere can tell you exactly what those habits are.

- shots to the upper half of the net
- long range shots
- doesn't track the puck particularly well
- plays small
- drops to his knees far too early and often
- allows weak goals against at the worst possible time

Sound familiar? They are the same problems that hindered him in Edmonton over the last number of years…though most turned a blind eye until his horrendous start in October. Unfortunately for Dubnyk, he looks as though he is heading down the same path in Music City and if he doesn't find a way to turn things around prior to April 13th, he could be hard pressed to find himself much more than your run-of-the-mill backup position come 2014-15.

One would think Trotz will send out #40 to face his former mates in his return to Rexall Place on Sunday night, this despite his continued struggles. For his sake, let's hope the twenty-seven year old finds his game because this might just be his final chance at proving he still belongs in the National Hockey League.


3,468 Stories & Growing Daily...

To date HometownHockey.ca has posted a total of 3,468 hockey stories!

Be sure to check out our Columnists archives or, why not Contribute a Story yourself!



HometownHockey.ca

offers a very generous revenue sharing opportunity for our Columnists. If you are interested in learning more details about writing for us, please send us an

EMAIL.
Click on Photo or Story Title for more info
HometownHockey.ca News Database Last Updated:
Apr. 28, 2022 @ 11:52 AM EDT