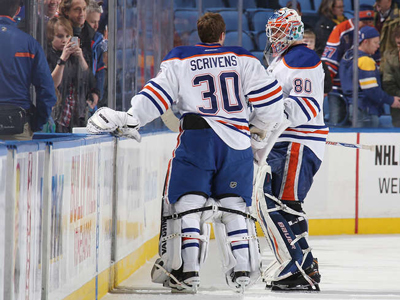 Edmonton - February 5, 2014 - For the vast majority of Edmonton Oilers fans, the moment Ben Scrivens put the finishing touches on his NHL record setting 59 save performance against the San Jose Sharks was the moment he became this club's #1 goalie.

When you combine his numbers with the Los Angeles Kings to his first five starts in Oilers silks, they leave Scrivens with a league leading .935 SV%...albeit in limited duty.

That said, the numbers are what they are and the twenty-seven year old has been pretty darn impressive since arriving in town.

However, what has been lost in all the hoopla surrounding Scrivens career night against the Sharks is the return to form of Ilya Bryzgalov.

He may not be everyone's cup of tea but for the most part, the Russian tender has been solid during his time in the Alberta capital.

While some seemed almost perplexed by Dallas Eakins' decision to go with Bryzgalov against the Buffalo Sabres on Monday evening, the move actually made perfect sense. Not only had the former Toronto Maple Leaf earned an extra night off after been bombarded with a 100 shots on goal over his previous two starts but in all honesty, he looked a tad worn out in the third period during the Oilers 4-0 loss to the Boston Bruins on Saturday afternoon.

Add to that the fact Bryzgalov was coming off an outstanding performance in what was an Oilers 3-2 win in Vancouver and suddenly the move became a no-brainer. The veteran tender did not disappoint, stopping 42 shots in leading Edmonton to their fourth win in five games. While some seem almost surprised by the thirty-three year olds recent play, outside of a bad two week stretch, it has been the norm.

If you take Bryzgalov's season on a whole, the numbers look fairly ordinary. However, one must remember with the sample size being as small as it is, only eighteen games, a bad run can make those stats look far worse than they actually are. Since making his Oilers debut in a relief appearance against the Chicago Blackhawks on November 25th, the former Phoenix Coyotes star netminder has posted the following numbers:


GP-18, W-5, L-8, OTL-3, SA- 568, SV-515, SV%- .907, GAA- 3.15


Again, nothing special but when you take a closer look and break it down into three segments they tend to look a tad different. From November 25th - December 31st the numbers looked like this (including six goals against in a blowout loss to the St, Louis Blues on December 21st):


GP-10, W-2, L-4, OTL-2, SA-307, SV-281, SV% - .915, GAA -2.91


Considering the group of players Oilers goalies have had to play behind this season, those numbers are fairly solid. That said, the last two games of that cluster and the first of the following segment, were against his three previous teams, the Philadelphia Flyers, Phoenix Coyotes and Anaheim Ducks, and all three ended up being losses. From January 1st- 14th, Bryz struggled mightily and it reflected in his stats:


GP-4, W-1, L-3, SA-124, SV-106, SV% - .855, GAA-4.10


While the goals against average isn't much different, the six goal shellacking against the Blues in late December played a big part in that. The problem was, he not only saw a massive drop in his save percentage but also started allowing a bad goal or two a game…following in the footsteps of one Devan Dubnyk.

That all changed when Dubnyk was shipped off to the Nashville Predators and Craig MacTavish decided to bring Scrivens on board from Los Angeles. Since then, the two have basically split the starts and if you take Scrivens out of body experience against San Jose for what it was, the numbers don't look to different.


Bryzgalov
GP-4, W-2, L-1, OTL-1, SA-139, SV-128, SV%-.921, GAA-2.75

Scrivens
GP -5, W- 2, L-3, SA-195, SV-184, SV%.944, GAA -2.21


Outside of a poor ten minute stretch against the Coyotes on January 24th,, Bryzgalov has been lights out and played a large role in helping the Oilers take five of a possible eight points in his last four starts. The scenario with Scrivens isn't much different. He was average at best in his debut against the Minnesota Wild and during the aforementioned third period in Boston but outside of that, he has been a brick wall.

After running with average to below average netminding for much of the year, it looks as though the Oilers rookie bench boss could finally have some semblance of calmness in between in the pipes. Not surprisingly, this team has started to win some games they have had absolutely no business winning…which is exactly what good goaltending does.

Even the best of teams has their goalie steal them "X" amount of games a year, nevermind teams that are near or at the bottom of the NHL standings. Just take a look at Edmonton's last opponent. As bad as the Buffalo Sabres are, Ryan Miller has single handedly given that group a chance to stay in many a game and kept them from being ripped to shreds on a nightly basis.

If you were to place the 2013-14 edition of Ryan Miller on the Oilers from the start of this season, even with all their limitations, I have no doubt Edmonton would be nowhere near the Western Conference basement. Some might disagree with that statement but I would argue, those people do not realize just how important having confidence in your goaltending is. Frankly, it changes everything.

At the moment, these players and this coaching staff appears to have full confidence in both Ilya Bryzgalov and Ben Scrivens…even if the masses have decided to move on from the Russian veteran as being a viable option in the future. While most fans think Scrivens should be handed the keys to the car for the remainder of the season, the organization clearly doesn't agree…at least not as of yet.