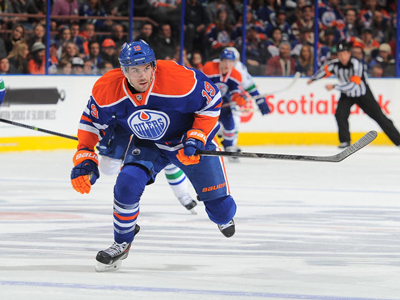 Edmonton - February 11, 2014 - Justin Schultz is no different than the vast majority of players who have pulled on an Edmonton Oilers jersey during the 2013-14 campaign.

Much like the team itself, the talented blueliner's sophomore season hasn't gone according to plan.

That said, Schultz has not only rediscovered his scoring touch of late but has also started showing signs of improvement in his own end of the rink.

While the former second round pick has always looked to be somewhat out of his element when it comes to playing defence at the NHL level, he is making progress.

While that element of chaos is still present in his game it is nowhere near the level it was earlier this season or during much of his rookie campaign.

Like many of the Oilers young forwards, Schultz will occasionally get himself into trouble by focusing on the puck, instead of taking care of his man or zone on the ice. Not exactly a strong suit for a defenceman but in all honesty, that is not way the organization decided to sign him as a free agent in the summer of 2012.

The former University of Wisconsin standout was brought on board for his offence and ability to move the puck. While some may have been hoping for Schultz to be the second coming of Scott Niedermayer, he is not that type defenceman. He may lug the puck up ice as gracefully as the Hall of Famer and may eventually end up being even better with it in the offensive zone but he isn't even in the same stratosphere when it comes to his half of the rink and likely never will be.

However, that shouldn't be held against the kid in any way shape or form. For those of us who are old enough to remember Paul Coffey's career, we know all about highly skilled defencemen who had challenges in their own zone. Coffey was lucky enough to have quality partners throughout his career, which allowed him the opportunity to improve on his shortcomings as he got older.

Like Schultz, the former Oiler great used his speed and a good stick to get himself out of a lot sticky situations but struggled mightily with his positional play and lack of physicality for much of the early part of his career. Unlike a guy like Phil Housley, Coffey improved his overall game and became more than just a point producer on the backend.

While the game is far different today than it was during the 1980's, Edmonton is hoping Schultz can do the same. Most tend to forget he is still just twenty-three years old and hasn't exactly been placed in the easiest of positions for a young defenceman. The Oilers defence is what it is and because of that he has been asked to take on too much too soon...with next to no support.

The mistakes of been plentiful but of late there have been far fewer and even less of the eye-popping variety. Through his first thirty games of the season, Schultz was a complete train wreck. Game in and game out, the Oilers #19 was a shoe-in for at least a couple of head scratchers a night and was producing little to no offence.

However, since late December, that has no longer been the case. Over his first thirty games of the season, he produced just three goals and twelve points while posting an ugly -16 rating over that time span. The last game of that stretch came against the St. Louis Blues on December 21st and saw Schultz play just over eighteen and a half minutes.

Since then he has played twenty-two games and has already matched his previous total of twelve points, while chipping in another five goals. He went from being one of the worst +/- players in the entire NHL, to posting a +3 rating and has either been even or better in seven straight and nine of his last ten.

Not surprisingly, those numbers jive with what has arguably been the Oilers best stretch of the season. While their netminders have played a huge role in the turnaround, Schultz has been rock solid and returned to his minute-eating ways. He has averaged roughly twenty-five and half minutes over his last twenty-two outings, including a season-high of 29:07 against the Calgary Flames on December 27th.

Those my friends are numbers of a top pairing defenceman in the making. Justin Schultz may not be there yet but if Craig MacTavish could go out and actually acquire a legitimate top pairing blueliner to play alongside him in 2014-15, Schultz may be far closer to reaching his potential than most think.