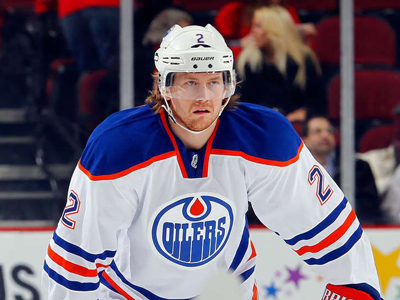 Edmonton - February 13, 2014 - As the Edmonton Oilers 2013-14 draws to a close, one can't help but wonder what the future might hold for one Jeff Petry.

With his contract set to expire at seasons end and unrestricted free agency just a year away, both sides need to figure out if they are still a good match and they need to do so rather quickly.

At the age of twenty-six and with just over 200 games of NHL experience under his belt, Petry should be on the verge of entering the prime years of his career.

Unfortunately for both him and the club, the talented blueliner has been forced into taking on a far more prominent role during his first four years in the league than he likely should have.

Some will argue that handing Petry too much too quickly has stunted his growth but in all honesty, who really knows.

At one end of the spectrum, the extra responsibility and ice-time has unquestionably made him a better player in the here and know but will that still be the case over the long haul?

Tough to say but at this moment…none of us can really answer that question.

In my mind, there is a big difference between a player not developing and one who takes a little longer to reach his high-end game. On most National Hockey League teams, Petry is already a top four defencemen and with a better supporting cast around, he would look even better.

The situation in Edmonton may not have been ideal for the former second round pick but all things considered, the young man has turned himself into a pretty solid defenceman. Will he ever turn into that top pairing guy? Probably not but was that ever supposed to be the end game for Jeff Petry?

Not sure about any of you but if someone would have told me back in 2006, when the Oilers selected him forty-fifth overall, that he would become a legitimate top four D-man by the age of twenty-six…I would have answered yes please. That hasn't changed.

Let's not confuse a solid run playing alongside Ladislav Smid as this team's top pairing a couple of years back, with what his actual ceiling was. Regrettably, many have done exactly that and have unjustly taken to targeting the American blueliner as part of the current problem…rather than part of the eventual solution.

In short, the Oilers #2 has become the new whipping boy in the eyes of fans and hopefully that won't come back to haunt the organization. While most players would love us to believe they can simply tune out the crowd, be it good or bad, most of those players would be lying. Make no mistake, they hear it and after a while, it becomes a little much to take.

Could that play a part in whether or not Petry decides to sign a long term extension with the Orange and Blue? It quite possibly could but the fact this team keeps losing games will likely play a far bigger role. Whereas on the other side of the equation, the organization has to guard against having another young defenceman run out of town a la Tom Poti.

With that said, what type of number and term would satisfy both the club and player? The chances of Petry re-signing for anything more than a year at a number close to his current salary of $1.75 million is pretty much zero. So are we talking three or four years in and around the neighbourhood of $3.5-$4 million a season? If the club expects him to give up two or three years of unrestricted free agency, it is going to cost and with the cap going up to what it is, the annual number could end up being closer to $4 million.

That may not sit well with Craig MacTavish, especially when you consider he also needs to ink Justin Schultz to a pact prior to next season. A tough spot for sure but if you're Jeff Petry, it's really a no-brainer. If he doesn't get the sort of money or term he is looking for, he signs a one year deal and takes his chances in free agency come summer 2015.

Of course, the other possibility could see clubs targeting Petry as part of a package in a possible deal to help Edmonton acquire the top flight defenceman MacT so desperately wants. Obviously, if that were the case the Oilers GM wouldn't hesitate to pull the trigger but that would be in a perfect world and things seem to rarely, if ever, go that direction when it comes to this once storied franchise.

No matter how you slice it, Jeff Petry and the Edmonton Oilers are about to enter a crossroads in their relationship and as of right now, it is far too difficult to predict which way this will go. Whatever route Craig MacTavish ultimately decides to go...he had better get this one right.