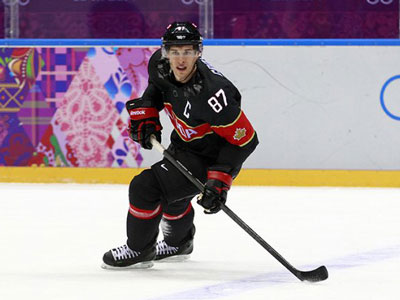 Edmonton - February 15, 2014 - As great as the Winter Olympics are, countries who live and breathe the game of hockey view Men's Hockey as "THE" event.

While all the players are professionals and in most cases millionaires, bringing home an Olympic Gold Medal is pretty darn special...no matter how much money they have in their bank accounts.

For the vast majority of Canadians, watching and rooting for our athletes that generally go unnoticed during the four years that follow each and every Olympic game is extremely special but it's the colour of the medal they bring home in hockey which really counts.

Right or wrong, if Team Canada doesn't bring home the gold in hockey, those games will always be viewed as somewhat of a disappointment.

Sochi 2014 is no different and thus far, Team Canada sits with a 2-0 record after wins against Austria and Norway.

After looking less than impressive in their 3-1 victory over the Norwegians in their opener, Mike Babcock's side crushed Austrian by a score of 6-0 on Friday morning/evening.

Despite their two wins, there are those who are "worried" about Team Canada come crunch time. What's wrong with Sidney Crosby? Who will they turn to in between the pipes…Carey Price or Roberto Luongo? Unfortunately, the way in which the round robin portion of the competition is setup, it leaves those and many other questions unanswered.

In all honesty, if Crosby were to remain invisible until the semi-final game, I for one would be more than ok with it. Does having #87 put up a five spot against a team who doesn't even belong on the same ice as Canada really matter? In my mind it doesn't.

Do we really learn anything about Price or Luongo in games against Norway or Austria? I sure don't. How about PK Subban? There are those who have their doubts about the Montreal Canadiens defenceman being one of Canada's top six blueliners, though I do not count myself among them. His play in yesterday's thrashing should really have nothing to do with him playing a key role or not.

With that said, would it not make far more sense to have it be best-on-best during the preliminary rounds as well the elimination portion of the competition? If NHL players continue to take part in future Olympics, perhaps the time has come to do away with the traditional setup and turn to a two tiered system...instead of the mishmash we currently have.

It would actually be quite simple to do. Have two divisions of three in each tier, with the top group consisting of Canada, Czech Republic, Finland, Russia, Sweden and the USA, while the bottom tier would have the likes of Austria, Latvia, Norway, Slovakia, Slovenia and Switzerland. The six teams in the first grouping would automatically qualify for the quarterfinals while the other six would have to battle it out for top spot in the second tier and a place in the final eight.

Instead of forcing teams to play three games during the group stages, they would only need to play two each. That would cut the overall hockey schedule by twelve games but in reality, it would give teams an extra day to prepare for the quarters and the players another day to recover...which would likely be more than warranted.

Not to mention, it would give hockey fans, be them at the games themselvesand/or watching them on the tube, another opportunity to check out sports they would usually have zero interest in.

What hockey fan would rather watch Canada take on Austria and Norway, instead of say Sweden and Finland? Not sure about all of you but I would be perfectly fine with more games like today's tilt between Russia and the Americans, as opposed to watching one of the hockey powers try and put up a ten spot against the Latvia's of the world.

From a coaching standpoint, it would at least give them something concrete to go on when it comes to making a decision as to who to start in goal or what forward or defenceman to sit out. As it stands, that isn't the case. Regardless of the opponent, a one or two game stretch is just that but it has to carry far more weight when it comes against other medal contenders, as opposed to teams that are fortunate to generate anything resembling a quality scoring chance.

At the end of the day, NHL players want to go to the Olympics for three reasons. First on that list would be the honour of representing their country at an Olympic games. Second is getting a chance to win one those damn medals and third without question, is playing against the very best the rest of the world has to offer.

That last piece is the exact reason why you would never find a player who would be against changing to such a setup. From a competition standpoint, these guys make the trip over in hopes of experiencing hockey at its highest level. Why limit that to a game or two, when it could be so much more and quite possibly make the Gold Medal matchup even better? Seems like a no-brainer but common sense and sport rarely, if ever, go together.