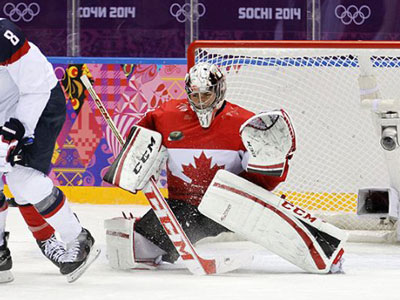 Edmonton - February 21, 2014 - Heading into today's Olympic semi-final between Team Canada and Team USA, there really was no question as to who the favourite was.

While some may have been expecting the Americans to pull off the upset, no one could have been overly surprised to see Canada walk away with a 1-0 win to advance to Sunday's Gold Medal game against Sweden.

Outside of the opening ten minutes of action, Mike Babcock's crew was the better side on the afternoon but that doesn't mean netminder Carey Price wasn't called upon to come up with a handful of huge stops, as he out-dueled the Los Angeles Kings Conn Smythe Trophy winner Jonathan Quick.

Both men were outstanding from start to finish but in the end, it was the Montreal Canadiens goaltender who would take his game to another level.

While Price has shown flashes of brilliance throughout his seven year NHL career, the former fifth overall pick has yet to experience any sort of team success with the Canadiens. In fact, the lone playoff run the Habs have enjoyed during his time in La Belle Province came with Jaroslav Halak in between the pipes and Price as his backup.

At the top of his game, few have made playing the position look so easy but the twenty-six year old has struggled with consistency in big games. Having said that, when it came to picking a starting goaltender to represent Canada at the 2014 Sochi Games, the decision was always going to come down to one of Roberto Luongo or Carey Price.

After watching his performance on Friday morning against a red-hot American squad, no one could question Babcock's decision to hand over the #1 job to the native of Anahim Lake, British Columbia. From the drop of the puck, Price looked to be in top form and all business.

He made a number of timely stops in the opening minutes of play including a big stop off Phil Kessel just seconds in and an absolutely gorgeous glove save off John Carlson from the slot. It was clear Canada had yet to find their legs but their netminder picked up when they needed it most.

Over the final fifty or so minutes, Canada was the better team and carried much of the play but just like Price, it looked as though beating Quick could be just as challenging. If either of these guys were going to be beat, it would come via a deflection or scramble play down low. Jamie Benn accomplished just that, re-directing home a beautiful slap-pass from Jay Bouwmeester to give Canada the lead early in period two and on this day, it would be all Price would need.

He did catch a break midway through the second, as Paul Stastny poked a loose puck between his legs that slid painstakingly close to the far post of a yawning cage, but that was about it for worrisome moments. When the Americans managed to find their way through the Canadians swarming forecheck, they generated chances but didn't come close to getting one past #31. Hell, they were luck to even get a whack at a rebound.

The combination of Canada's defence being as good as it is and Price swallowing up nearly ever puck fired his way, made this one a forgone conclusion. All they needed was a goal and the moment Benn tipped home the ice-breaker, this one was all but over.

While today's win was huge for hockey crazed fans across Canada, it also marked the arrival of the real Carey Price. Come Sunday morning, Team Sweden will have to be at their very best if they hope to get a puck past him in the Gold Medal Final but in the long run, it is the rest of the National Hockey League that could be in for a major surprise over the final six weeks of the season and beyond.

One would think Montreal Canadiens fans everywhere could not thank you enough Sochi.