| | |
| --- | --- |
| | |
Oilers: If Ben Scrivens is the answer, then what was the question?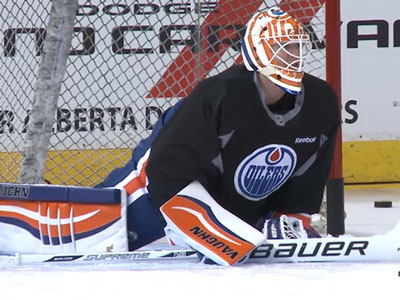 Edmonton - February 24, 2014 - When the Los Angeles Kings decided to trade Ben Scrivens to Edmonton Oilers for a third round pick back in mid-January, the Spruce Grove native must have felt as though he had won the lottery.

While the Kings may have been battling for top stop in the Western Conference at the time of the deal, the former Toronto Maple Leafs netminder was clearly #3 on the depth chart.

In coming to the Oilers, the twenty-seven year was handed his first real shot at earning a spot as an NHL starting goalie.

That was never going to occur in LA with Jonathan Quick around and the Maple Leafs felt they were better off going with the tandem of James Reimer and Jonathan Bernier.

Whereas the situation in Edmonton is a completely different animal altogether…the job is quite literally there for the taking. On the very day in which Craig MacTavish acquired Scrivens, the Oilers GM also shipped former incumbent Devan Dubnyk to the Nashville Predators, in exchange for Matt Hendricks.

With Dubnyk no longer part of the equation and pending unrestricted free agent Ilya Bryzgalov the only other in house option, it was clear the former Cornell University standout was going to be given the chance to prove his worth and to this point, he has been nothing short of fantastic during his brief stint in Oilers silks.

The numbers speak for themselves. While he posted a 7-5-4 record with a .931 SV% and a 1.97 GAA during his time behind Darryl Sutter's defensive juggernaut in Los Angeles, his numbers have been even better since arriving in his hometown. Scrivens has gone 3-3 with a .948 SV% and a 2.01 GAA with what is likely the worst defensive side in the entire National Hockey League in front of him.

Now his record-breaking 59 save shutout performance against the San Jose Sharks plays a large part in those numbers being what they are but he has also allowed two or fewer goals against in four of his six starts since arriving in the Alberta capital. While it's still far too early to tell whether or not Scrivens has what it takes to be a true #1, the organization has to like what they have seen thus far.

While Dallas Eakins won't come out and say it, the plan appears to be for his former Toronto Marlies starter to get the lion's share of work down the stretch. With Edmonton scheduled to play just three times prior to the NHL Trade Deadline and Bryzgalov likely to be dangled as possible trade bait to a contender looking for a veteran insurance policy in between the pipes, Scrivens could be very busy over the final six weeks.

With the Oilers set to play fifteen of their final twenty-two at Rexall Place and just one back-to-back left on the season, the local product could find himself starting almost all of the remaining games. Now should the former Phoenix Coyotes goalie finish the year in Edmonton, the safe bet would be on Scrivens getting two of every three starts.

No matter how you look at it, the new fan favourite will get his opportunity to prove to the Edmonton Oilers organization that he is the starting goaltender they have been searching for since the departure of Dwayne Roloson. In my mind, he isn't that guy but would be a solid option as backup goalie who would garner thirty or so starts a season.

Could Ben Scrivens turnout to be the answer? Anything is possible but the chances of him turning into the second coming of Miikka Kiprusoff, at least in my opinion, are almost zero.


3,468 Stories & Growing Daily...

To date HometownHockey.ca has posted a total of 3,468 hockey stories!

Be sure to check out our Columnists archives or, why not Contribute a Story yourself!



HometownHockey.ca

offers a very generous revenue sharing opportunity for our Columnists. If you are interested in learning more details about writing for us, please send us an

EMAIL.
Click on Photo or Story Title for more info
HometownHockey.ca News Database Last Updated:
Apr. 28, 2022 @ 11:52 AM EDT