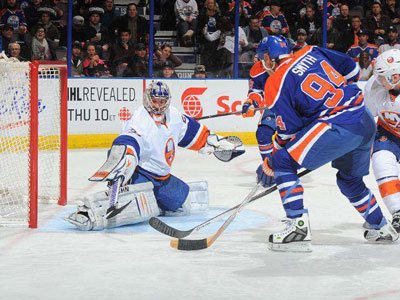 Edmonton - March 7, 2014 - When it comes to sports, critiquing victories is rarely a good idea.

Ultimately you play the game to win and in all honesty, how you get there doesn't usually matter.

However, from time to time there are those rare occasions when winning ugly simply isn't acceptable.

Last night was one of those times for the Edmonton Oilers, as they edged past the New York Islanders 3-2 in overtime.

They managed to pull off the come from behind victory, albeit against an Islanders squad that featured a roster that was littered with AHL talent, after being thoroughly dominated for much of the opening forty minutes.

Dallas Eakins' crew woke up just in time to force this one into the extra session, thanks to goals from Philip Larsen and Ryan Smyth, who pulled into a tie for top spot in Oilers history with Glenn Anderson with 126 power play goals.

Through two periods of play, the Oilers looked as though they didn't even belong on the same ice as the undermanned Isles. If not for stellar performance from netminder Ben Scrivens, this one could have literally pushed many fans over the brink. It is one thing to be outclassed by the likes of the Chicago Blackhaws, Los Angeles Kings, St. Louis Blues and San Jose Sharks but it is quite another to have it happen against the Islanders.

To make matters worse, it was yet another dreadful performance on home ice. This coming just over a week after the Oilers head coach pleaded with fans to make Rexall Place a far tougher place for opponents to come into. I didn't think he was being serious at the time and I sure as hell hope he doesn't say anything like that again.

The fact that arena erupted like it did, after Taylor Hall had a rebound bounce off his skate and slip in behind Evgeni Nabokov at the 2:29 mark of overtime, shows you how badly this fan base wants this team to succeed. In the blink of an eye, they simply dismissed forty minutes of absolute garbage and cheered like mad when their team decided to show up and literally snatch two points from the jaws of defeat.

Here is what Oilers captain Andrew Ference had to say about the team's performance during his post-game interview with 630 CHED's Reid Wilkins:

"Well, it's definitely not how we wanted to play. Sloppiness, turnovers, odd man rushes were……it's not acceptable. It's a win and it was a nice comeback but we've talked about it for a while. We are trying to build some consistency and foundation so it's nice to get the win and see the fight back and all that but we have to strive for loftier goals for ourselves. You don't want to rain on the parade of a nice comeback and guys not giving up but the fact you have to come in here between periods and…you know…just give it to guys this many games into the season…"

Like I said, it's a little far into the season to have to talk about those things and to stoke the fire internally. You don't want to take the positives away…obviously accept them and be proud of them…but you can't let those overshadow some of those things you DEFINITELY have to strive for and build in our overall game for the rest of the year and moving forward."

Hard to disagree with a single word of what was a toned down diatribe but a diatribe nonetheless. That performance was completely unacceptable and let's hope their third period heroics don't erase just how bad they actually were from their memory banks. That one needs to stick and hopefully they learn from it because that was simply embarrassing.