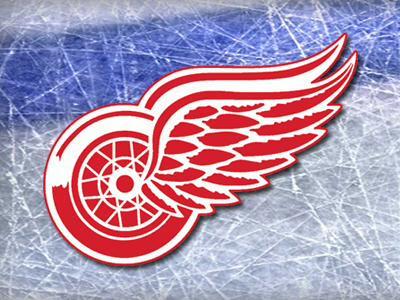 Grand Rapids - March 14, 2014 - The Detroit Red Wings addressed to some degree the injury-induced hole at center recently by acquiring David Legwand from Nashville. Legwand has 41 career points against the Wings in 69 games and so is a bit of a Wings killer (though his 61 in 70 against Chicago make him more of a Blackhawks killer). Here's hoping he can convert some of that magic to the right side. He had an NTC with Nashville, so he wants to be here, but the fact his contract ends this summer makes him a rental.

So we have to look at the price of that rental period. He comes at the cost of Patrick Eaves, a conditional pick (2nd if the Wings make the playoffs, 3rd if they don't) and the Wings' top center prospect Calle Jarnkrok. As attached as I was to Eaves, I have to admit he's interchangeable with a lot of guys in the league so I'm not hugely torn up about that. Legwand is on paper an upgrade. Where I do have an issue with this deal is the other two components: the pick and Jarnkrok.

First, the pick. Ken Holland calls this a shallow draft, which I'm sure is true. Still, I'm not as comfortable throwing picks at rentals as I once was. The Wings no longer have the main roster quality they used to have. In the good old glory days, throwing picks around was no big deal - with a roster full of deservedly entrenched veterans or direct-to-NHL younger dudes, prospects were more like something other teams used than anything the Wings needed in the short term.

Now, though, the main roster is not nearly as deep. The Wings have lost more franchise-best players in the past few years than they've gained potential follow-ups. Maybe that pick turns into a big nothingburger, but I still have to ask if David Legwand is worth throwing a potential second round pick away like it's nothing. The Wings are a playoff bubble team right now so maybe it's a more pessimistic calculation than we'd like to think, but still.

Then there's Jarnkrok. Twitter was abuzz with word that he was already getting squirrelly despite only being 57 games into his first full season in North America at the AHL level. There are some clear entitlement issues there. But entitlement issues and organizational pipeline hopelessness issues are not mutually exclusive.

That same situation mentioned above, the good old glory days of a log-jammed roster of quality, has led at times to the Wings having kids get overripe and wither on the vine. Clearly, so early in his North American career, Jarnkrok could have been more patient, but we all know the Wings have that problem at times. This season, with the injury plague as it is, we've seen the Wings necessarily lean on young kids, but the key word there is necessarily. There's no way Riley Sheahan would have spent so much time in the NHL without those injuries, but apart from the fact of those lost man-games to some of the more important players on the team, do we really regret that?

The Wings have put guys like Samuelsson, Cleary and Bertuzzi ahead of their younger players and it has for some guys created an apparent sense that they don't have a real shot at the NHL. Not everyone has the patience of Tomas Tatar and nor should they. They're in this to play at the highest level and for those that have the talent, they need to see a road ahead of them to that goal or it's a serious morale killer.

It seems like the Wings still need to make the adjustment themselves to this new era, where youth is more important than it used to be, even if raw. Maybe Jarnkrok could have gotten a game in the NHL due the injury situation - maybe he would have realized he didn't have what it takes yet and it would have sparked him to work harder at the AHL level. Who knows.

Obviously, the Predators think they can convince him to stay. He seems to be the main goal of that deal for them. If they can offer him a path to the NHL, I have to wonder why the Wings couldn't have.