Good, Bad, and Ugly - Return of Patrick Roy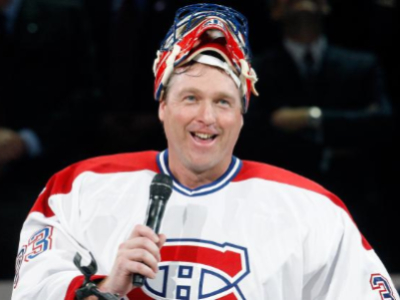 Montreal - March 19, 2014 -

This was supposed to be about Patrick. Instead it was about Thomas. And Brandon, Travis and Dale.

Patrick Roy's homecoming was just perfect for Habs fans. They got to salute him prior to the game while Sara Diamond was singing the U.S. anthem. They watched a talented, explosive young team put on the kind of puck possession display that has them tied with the defending Stanley Cup champs with just 13 games to play. They saw the most dynamic teenager in the game make his Montreal debut a memorable one. And they saw the home team storm back to score six goals over the final 40 minutes to win the game.

So the Patrick Roy - Montreal saga ends for now. There remains at least one more chapter. But that likely won't get written until Nathan Mackinnon is closer to 30 than he is to 20.

THE GOOD

•Thomas Vanek. We told you not to worry.

•David Desharnais - Max Pacioretty. Vanek's presence down low takes some of the heat off Pacioretty who had his first multiple assist game since January 2nd. Pacioretty's current scoreless drought has reached six games - his longest since the first month of the season - but imagine when both he and Vanek are scoring? And Desharnais continues to amaze. "David has great poise with the puck" said Michel Therrien post game. For those of you who had been clamouring for Lars Eller to take Desharnais's spot - you don't really believe Eller is as "poised" with the puck - do you? In his last 13 games Desharnais has 15 points.

•The 4th line. Brandon Prust - Dale Weise - Travis Moen. You could see this coming Saturday against Ottawa. Weise brings the speed to go with the size. Can't see him being a healthy scratch again. Moen scored his first goal in 43 games with a backhand that looked like it could have been scored by Alex Galchenyuk. And Prust was his usual fearless self. Already banged up with a shoulder/rib ailment (when isn't he banged up?) that he reaggrevated in the first period, Prust re-emerged in the second just in time to set up Moen with an all-out sick, diving pass while on his belly. It was a huge goal - scored just 48 seconds after Max Talbot had given Colorado a 2-1 lead. Unable to take face offs, Prust deferred to Moen who managed to win three of four. Prust's slap shot from the high slot might have been his most satisfying moment of the season. And Weise's empty netter - thanks to a very unselfish Tomas Plekanec - capped off as good a night as I can remember a so-called 4th line having in quite some time. They were a combined +8. But how does Prust feel today?

•Carey Price. He's not in Sochi anymore. Beaten more often in his first game back Saturday against Ottawa than he was during the entire Olympic tournament. Beaten three more times by the Avalanche but in all three cases there were obvious defensive breakdowns/blown assignments. His biggest save of the night occurred early in the second period when Colorado's Erik Johnson caught Andrei Markov flat footed at the Montreal line and burst in alone. If he doesn't stop it it's 2-0 Colorado. Instead, moments later Vanek scores his first goal as a Hab to tie the game. But how does Price feel today?

•Mike Weaver & Jarred Tinordi. Habs third defense pair was solid. Weaver was +2 while picking up his first point as a member of the Canadiens.

•Special Teams. Habs' struggling power play was 2-3 while the PK unit was 3-3.

THE BAD

•Lars Eller. The Nathan Mackinnon goal to open the scoring late in the first period was a thing of beauty but the Habs didn't seem to want the puck. It started when Brian Gionta was stripped of it inside the Montreal zone. Mackinnon was on the puck like a bee on nectar. Eller then had it - and lost it. And then had another opportunity to clear - and missed. And then watched his man - Mackinnon - score his first goal in 11 games (how did he go 10 games without scoring?). Eller is now -16 on the season. Count me among those who thought the easy tap in he scored to begin the comeback against Ottawa would get him going. Maybe on Thursday against Columbus - a team managed by the man who drafted him - Jarmo Kekalainen.

•Francis Bouillon. Was sitting at -3 before Weise's empty netter. I know he's well rested but his 23:18 of ice time was behind only P.K. Subban and Erik Johnson. Frankie Boo is not young and gifted.

THE UGLY

•Jean Sebastien Giguere. With their all out attack mode and less than imposing defense corps the Avalanche need good goaltending to win. They didn't get it. Giguere, playing for the final time in Montreal, fought the puck all night. Much like facing Robin Lehner on Saturday it seemed only a matter of time before the Canadiens put a couple by him. The glare directed at Giguere by his Hall of Fame coach after the Moen goal spoke volumes.

•Scary moment in the second period when Eller and John Mitchell were in a foot race deep in Colorado territory. Both slammed into the boards with Mitchell - a handy, valuable player - getting the worst of it as he made like a bowling pin after the collision. Was taken to hospital with a back injury but released in time to travel with his team. Colorado just got Paul Stastny back after missing 10 days while P.A. Parenteau is out with a knee injury and Alex Tanguay hasn't played since January. The Avalanche can ill afford another significant injury as they gear up for the playoffs. Montreal fans, meantime, can only hope the close call serves to wake up number 81.
3,453 Stories & Growing Daily...

To date HometownHockey.ca has posted a total of 3,453 hockey stories!

Be sure to check out our Columnists archives or, why not Contribute a Story yourself!



HometownHockey.ca

offers a very generous revenue sharing opportunity for our Columnists. If you are interested in learning more details about writing for us, please send us an

EMAIL.
Click on Photo or Story Title for more info
HometownHockey.ca News Database Last Updated:
Aug. 10, 2020 @ 8:14 AM EDT