The Good, Bad, and Ugly - Canadiens end Bruins hot streak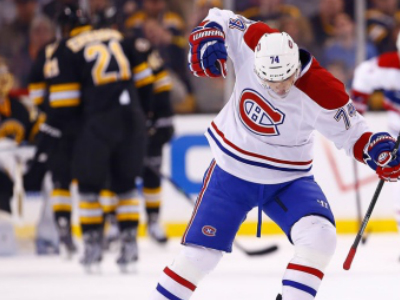 Montreal - March 25, 2014 -

The Canadiens walked into the cave in Boston without Brandon Prust, Lars Eller and Carey Price. George Parros wasn't dressed. Less than five minutes into the game they lost two forwards. And they still managed to end the Bruins 12 game winning streak. And survive.

Impressive.

THE GOOD

• Peter Budaj. There's something about Boston that brings out the best in Budaj. He hadn't played in 12 days (since the Bruins beat him 4-1 in Montreal) after finishing a stretch during which he looked liked James Reimer. But he was back to the Budaj we saw prior to Price going down. In the two games he played in Boston this season Budaj was 2-0, 0.96, .969. In his career there he's 5-0, 1.34, .955. Maybe he's a Red Sox fan.

• Alexei Emelin. Huge game for him and not just because he scored a goal although it was certainly fitting that he scored. As we mentioned in previous blog, Emelin has been much steadier of late. If you go back to that loss to Boston at the Bell Centre where he was dominated physically by Milan Lucic, I liked the fact that he went right after the Bruins winger in his first appearance against him since suffering that serious knee injury at this time a year ago. You remember Emelin crumpling to the ice after hitting the Bruins winger. And there he was lined up against him for the first time since shredding the knee and he didn't back down. He took the worst of it - as many defensemen do against Lucic - but he never backed off. And there he was again on his first shift nailing Lucic with an old fashioned open ice hip check that brought back visions of Denis Potvin in his prime. This Habs defenseman has big balls. Which is why Lucic tried to flatten them.

• Brian Gionta. Tremendous effort by Habs captain - especially leading the way on the penalty kill (7:13) en route to a season high 26:19. He hasn't played as much during a regular season game since January of 2011 when he logged 26:50 against Anaheim. Also helped set up Emelin goal late on the power play early in the first period.

• Andrei Markov. Played over 29:00. Led Habs (with Gionta) with 4 blocked shots. Took no crap in front of Budaj. Still getting caught flat footed at the Montreal blue line almost every game. Wouldn't expect much from Markov or Gionta against Buffalo.

• P.K. Subban. You might look at the stat sheet and shrug. But all Subban does - as consistently as any defenseman in the NHL - is get the puck out of his zone. An even more impressive feat against a team like Boston which features the biggest and baddest forecheck in the NHL. Plus he goaded vet Johnny Boychuk into taking a dumb penalty.

• Mike Weaver. Montreal fans are beginning to see the value in the veteran defenseman. Like most of the PK unit he did a tremendous job, especially with his stick. It was textbook defensive zone hockey. His hit on Daniel Paille was also textbook hockey. Didn't play as much as Markov or Gionta (20:12) but the Habs will dress three 35 year olds against Buffalo who combined to play over 75:00.

• Tomas Plekanec. Solid. No surprise that the Bruins finally scored on the power play (4th consecutive 3rd period PP) while Plekanec was on Habs bench (replaced by Michael Bournival). Picked a good night to have a strong game in the face off circle (59%).

• Alex Galchenyuk. Aboutr time he finally scored in the shootout again. It was also good to see him and Brendan Gallagher together in overtime, even though they almost got caught.

• Michel Therrien. Take a bow. From his decision to start Budaj over Price (to give Price's knee another day to rest, I believe) to dressing Weaver/Murray instead of Jarred Tinordi and keeping Parros out of the game, the coach again pushed all the right pre-game buttons. Sports talk show callers/hosts be damned.

THE BAD

• Rene Bourque. Sad to see after what he did in Toronto. Bailing out on pucks while some his smaller teammates took a hit to make a play. Took a lazy, soft penalty in the offensive zone. He'll likely bounce back vs Buffalo. Then disappear agains in Detroit.

• David Desharnais - Thomas Vanek - Max Pacioretty. Worst game since they've been together. Not much room to do their thing. Needed to strike 5 on 3 to put the game away late in the second period but fired blanks. Couldn't really do much - along with Daniel Briere - in the third period with all those penalties. But Vanek - and Briere - had a chance to make up for it in the shootout but were both beaten by Tuukka Rask. At least Pacioretty provided some big minutes on the penalty kill.

• The "hooking" penalty on Brendan Gallagher in the third period. Called by referee Kyle Rehman. If what Gallagher did - a strong back check, lifting his opponents' stick, stealing the puck - is a penalty than the NHL once again needs to re-think its' rule book. What's more than likely is Bruins coach Claude Julien's discussion with veteran ref Dan O'Halloran (Happy 50th) prior to the third period when he no doubt pointed out that Boston had two power play opportunities to Montreal's six. Presto! By the end of the game the PP opportunities had evened out.

THE UGLY

• Kevan Miller's dangerous move, shoving Dale Weise into the boards, which prompted a penalty, injured Weise and eventually forced Travis Moen out of the game as well. Moen has to stop fighting. And the Habs cannot keep losing (bigger) bodies prior to the playoffs.

• Milan Lucic's cheap, chicken-shit move behind the play when he forced the blade of his stick into the back of Emelin's nut sack (P.J. Stock called it a "love tap" on L'Antichambre). The Bruins are a legit Stanley Cup contender. But on nights like this when veterans like Lucic, Boychuk, Zdeno Chara and Jarome Iginla get off their game and take stupid, emotionally-out-of control penalties and/or lose focus, you could see them succumbing to a team that won't be bullied.
3,453 Stories & Growing Daily...

To date HometownHockey.ca has posted a total of 3,453 hockey stories!

Be sure to check out our Columnists archives or, why not Contribute a Story yourself!



HometownHockey.ca

offers a very generous revenue sharing opportunity for our Columnists. If you are interested in learning more details about writing for us, please send us an

EMAIL.
Click on Photo or Story Title for more info
HometownHockey.ca News Database Last Updated:
Aug. 10, 2020 @ 8:14 AM EDT