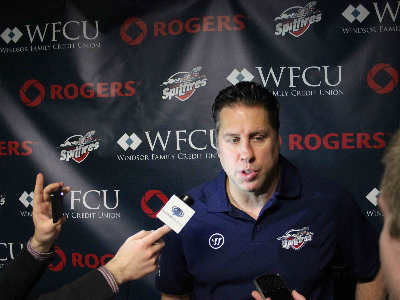 Windsor - April 6, 2014 - "Windsor is pleased to select, from the Waterloo Wolves, defenseman Logan Stanley." With those words from Spitfires Assistant GM and Head Scout Terry Doran, the Windsor club selected the 6'6", 209-pound defenseman. Taken in the first round of Saturday's OHL draft (12th overall), Stanley will provide another big frame to the Spitfires back end.

Spits GM Warren Rychel addressed the media after the second round and this to say about Stanley. "Logan Stanley is the guy we wanted. He's a big defenseman, and he's going to be a hell of a player. He's a leader-type player, and he'll come right in and he's a perfect fit. He's a good kid, he's eager, I just talked to him on the phone, he's happy to be here."

In the second round, the Spits took left winger Daniil Verity from the North York Rangers, as well as centre Clayton Keller from Shattuck-St. Mary's.

Rychel on Verity: "A real good hockey player, he shoots the puck , he's 6' and 200-pounds already and he's only 16. We think he can come in and contribute right away as well."

Rychel on Keller: "A phenomenal passer, a dynamic, really exciting player."

Asked for a comparison with other players, Rychel said that Stanley is a Jared Tinordi type player, while he likened Keller to Zach Parise. As for Verity. "He's that shooter who can put it away from the top of the circle."

Rounding out the draft, the Spits selections are as follows:

ROUND 4 (#72):NICK CHAUVIN, D, YALE 15S

ROUND 5 (#92) BLAKE COFFEY, D, TORONTO MARLBORO MIDGETS

ROUND 8 (#152): SEAN ROSS, C, 5'10 160, NORTH CENTRAL PREDATORS

ROUND 9: (#172): LIAM MOORE, G, 6'3 3/4 179, THE GOVERNOR'S ACADEMY

ROUND 11: (#212): ZAC LYONS, RW, 6'1 1/2 161, BRAMPTON 45's MINOR MIDGET

ROUND 12: (#232): TYLER BILES, LW, 5'11 1/2 163, GUELPH JR GRYPHONS

ROUND 13: (#243): EVAN WISOCKY, C, 5'9 163, LONG ISLAND GULLS

ROUND 14: (#272): DANIEL TOMASSETTI, D, 6'1 1/2 190, TORONTO MARLBOROS

ROUND 15: (#285): ANTHONY HURTUBISE, G, 5.11 1/2 166, CHATHAM-KENT CYCLONES

ROUND 15: (#292): ALEX LEE, LW, 5'9 151, TORONTO RED WINGS

TC out.