The Good, Bad, and Ugly - Playoff Edition: MTL leads series after game three victory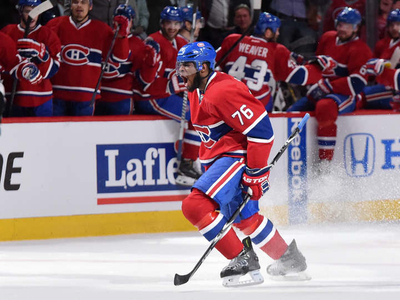 Montreal - May 7, 2014 - It was role reversal time at the Bell Centre.

The Montreal Canadiens - in their first second round playoff game on home ice in four years - played a lot like the Bruins normally play. While the guys in black and gold played more of a Montreal - style game.

Maybe there was an over emphasis on remaining disciplined - especially with Chris Rooney and Tim Peel working the game, two refs who don't hesitate to call penalties - or the fact that they trailed by three goals before the eleven minute mark of the second period, but I suspect we'll see a more rugged Bruins team in game four. Which means the Habs power play should get a workout. Which means the NHL's likely Vezina trophy winner will have to start playing like one or the President trophy winners will need to win three in a row to stay alive.

But we're getting way ahead of ourselves.

THE GOOD

• P.K. Subban. You expected anything less? Good karma seems to be following him around. Peel calls a bogus roughing penalty on him ("It was a penalty" said a politically correct Subban post - game. "I got my arm up". Ok then. But Subban's arm made contact with the upper chest of Reilly Smith, not his jaw or head. It looked worse than it was so Peel decided to blow his whistle.) yet it put P.K. in a position to score on a breakaway after bolting out of the box and send the Bell Centre into hysterics. He also set up the first goal by smartly heading down low to make a neat back pass. And there was the "high risk" Subban on the ice in the final minute protecting a one goal lead and the Canadiens' season. This is a player who has quickly vaulted from star status to superstar. He now has 11 points in the playoffs - trailing only Anze Kopitar and Zach Parise. 9 of those points have come in the last 5 games. And yes, against the Bruins he has six points in three games - averaging two points per game. Right now Boston has no idea how to stop him (or maybe they do but the how part is too scary to contemplate).

• Carey Price. Still on the subject of karma - perhaps Dougie Hamilton and Torey Krug would like a mulligan for their post game comments Saturday when they suggested Carey Price can be beaten through a screen up high. That revelation was right up there with discovering that Montreal is a city full of potholes. (Contrast that with Subban's comments on his goal "I was excited but I was also nervous. He's (Tuukka Rask) a really good goalie.") Hamilton and Krug were both victimized on Montreal goals while Price was unbeatable except for two deflections. And flipping the puck at Krug after the Boston defenseman tried to slap it trough him in the first period was, um, priceless.

• Michel Therrien. Wether it was his measured response to Claude Julien's "crap" comments or kibbitzing with Pat Hickey over possible line up changes, Therrien set the right tone. And those line up changes (Murray for Bouillon; Moen for Prust) worked. He gave the Desharnais - Vanek - Pacioretty line a few shifts in the first period against Boston's 3rd and 4th lines while also managing to get them out with Zdeno Chara on the bench. But recognizing there was still nothing happening he flip flopped Vanek and Brendan Gallagher ("more energy"). Presto. Vanek made an unbelievable slap pass to Plekanec for the first goal while clanking a shot off the post late in the third which would have put the game away. He used Murray wisely (12:22). He leaned heavily on Subban (27:50). He kept a quiet Andrei Markov to under 22:00. He had Michael Bournival on the ice with 22 seconds to go. But when Boston forced a face off deep in Montreal territory with just 8 ticks left Therrien sent Lars Eller over the boards to replace Bournival. Eller clinched the win before scoring into an empty net when he was first on the puck after Patrice Bergeron (61%) won another face off. Earlier in the day on the radio Pierre McGuire offered: "The two most improved bench coaches in the NHL are Michel Therrien and Alain Vigneault".

• Dale Weise. Scores on a breakaway going 5-hole ("my move"). Pounds the CH on his chest a la the Bruins Boston Strong move. Assists on Subban's goal. And all he cost the Habs was unrestricted free agent Raphael Diaz.

• Mike Weaver. Four more blocked shots. Outstanding work on the penalty kill again (along with Josh Gorges, Moen, Murray, Eller and Plekanec) and yet another point - his 3rd in the playoffs. In 24 games with the Habs, Weaver is 2-8-10 +15.

• Tomas Plekanec. Badly outplaying David Krecji. One bad mistake but in the end it didn't cost the Habs anything other than some short term stress.

• Michael Bournival. One of Habs best forwards from his very first shift. Very strong on the forecheck. It was Bournival's pass along the boards from the left side that eventually reached Subban to start the play on Plekanec's game opening goal. Might want to keep a third eye on Chara in game four after his slash sent the Bruins captain to the dressing room early in the first period.

• Douglas Murray. Added a physical presence that was actually felt. Five hits including a sit up and take notice check on Bergeron inside the Montreal blue line. Good to see him on the ice with two seconds to play while Gregory Campbell and Shawn Thornton were trying to stir up...a lot of crap.

• Chris Rooney & Tim Peel. Aside from the Subban roughing call they did their jobs well. They kept the game under control and didn't call penalties while remaining very consistent.

THE BAD

• Boston's first goal by Patrice Bergeron. It gave Boston the lift they were seeking. It's no disgrace losing a defensive zone face off to Bergeron but Plekanec completely forgot about his man after the draw. By the time Josh Gorges tried to do Plekanec's work (tie up Bergeron in the slot) the Boston centre had neatly defleted a Torey Krug shot past a very pissed off Carey Price.

• David Desharnais & Max Pacioretty. The effort is there. But at some point they're going to have to hit the scoresheet. While Vanek has 6 points in 7 games, Desharnais & Pacioretty each have one goal and two assists. Difficult to believe Habs are 6-1. In the three games against Boston they've both been held to just one assist. According to Pierre McGuire the Bruins are all over Pacioretty verbally with a lot of "college pretty boy" smack. Maybe, like against Tampa Bay, Pacioretty is saving his best for last.

THE UGLY

• Boston's "top" line of David Krecji - Jarome Iginla - Milan Lucic. They totalled just four shots on goal, including the tip in goal by Iginla of an Andrei Meszaros shot with 2:16 to play. Krecji was invisible - even in the face off circle where he won just four of 14 draws (29%). Iginla was hammered into the boards late by Travis Moen and I have no clue who that was wearing #17. Claude Julien is at the very least thinking about splitting them up. But lighting a fire under them might work first. Which could result in a real ugly start to game four.
3,453 Stories & Growing Daily...

To date HometownHockey.ca has posted a total of 3,453 hockey stories!

Be sure to check out our Columnists archives or, why not Contribute a Story yourself!



HometownHockey.ca

offers a very generous revenue sharing opportunity for our Columnists. If you are interested in learning more details about writing for us, please send us an

EMAIL.
Click on Photo or Story Title for more info
HometownHockey.ca News Database Last Updated:
Aug. 10, 2020 @ 8:14 AM EDT