Bye, bye Boston...bye, bye.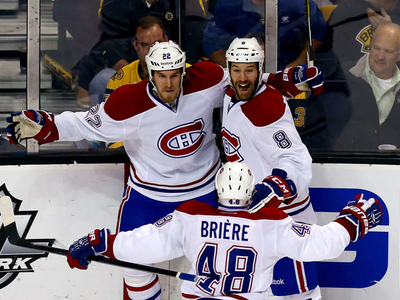 Montreal - May 17, 2014 - Well now.

It's finally safe to say the recent regular season dominance by the Habs over the Bruins was no mirage. Other than an outright theft by Carey Price in game one the Habs actually dominated play in the series. Or as close to dominating as one team gets in a series that goes the distance. Montreal led for 87% of the play, even as they faced elimination in game 6. So while some of us thought the Habs might have been cooked after game 5 it's now obvious that victory by Boston was the Bruins' last gasp.

Not only did the Canadiens take out the team with the best regular season record in the NHL - who also happen to be their arch rivals - they did so in convincing fashion while at the same time earning a tip of the cap from many skill based teams in the league. This whole "Don't poke the bear" stuff was getting really tiresome. The Habs were already in their heads. Why shouldn't they try to frustrate them even more?

Torey Krug & Dougie Hamilton respond to questions about Carey Price's perceived weakness (high shots that he can't see. Ha ha.) by agreeing with the premise. Krug and Hamilton both struggle in their own end. In game three Krug tries to fire the puck through Price who nonchalantly flips the puck at the Bruins fallen defenseman.

Milan Lucic pounds his chest after scoring his only goal of the series (spare me the "Boston Strong" theme. Lucic scored because Carey Price wasn't in the net. He was on the bench for a 6th attacker). Dale Weise scores on a breakaway in game three and mocks Lucic by pounding his CH. Late in game five, while sitting on the bench, Lucic flexes his bicep at P.K. Subban ("Gamesmanship" said Claude Julien. Amateur hour says me). In a scrum behind the net in game six, Weise again mocks Lucic by flexing his own bicep. Lucic misses an open net in the game and never comes close to beating Price, repeatedly flubbing shots or having them stopped easily by the Habs goaltender. In the post series handshake line Lucic enters "in a rage" said Ray Ferraro, clearly intent on delivering a message to not only Weise but Habs defenseman Alexei Emelin who hadn't mocked Lucic but clearly clocked him a couple of times.

Shawn Thornton - sitting at the end of the Boston bench in game five - sprays Subban with a water bottle. Then openly laughs about it. Barely two minutes into game seven Thornton and his 4th line mates are victimized by Weise when the "whiny tattletale" (guess which Boston writer) converted a perfect Daniel Briere pass through the crease of an apparently frozen-with-fear Tuukka Rask to give Montreal the much coveted lead. Weise scores more goals in the series than Lucic. When the game ends and Price is swarmed by his teammates he grabs the water bottle off the top of the net and sprays several of them.

Brad Marchand flips Brendan Gallagher's helmet down the ice. Two games later Marchand is called for goalie interference (Dave Jackson missed an Andrei Markov high stick) and unsportsmanlike conduct for a snow job on Price seven seconds into the second period. Marchand clearly hasn't been watching the playoffs since that call has been made in every series. But then again, it must be hard to squeeze in some NHL playoff viewing between watching seasons 6 and 7 of SpongeBob SquarePants. Marchand is outscored in the playoffs by almost everybody. And badly outplayed by Gallagher.

Claude Julien rips game two referees Jackson & Dan O'Rourke (especially Jackson). He gets them both again for game 7. NHL Director of Officiating Stephen Walkom sending a loud and clear message to the Bruins - "You take care of your team and I'll take care of mine". Or - to put it more crudely - "Don't fuck with me".

See a pattern here?

The Bruins should know better than most what happens when you treat your opponent with open disdain. They got the treatment themselves from the Vancouver Canucks in 2011 when Vancouver began to assume the Stanley Cup was theirs simply because they believed it was their time to win it, and anyway, what could possibly go wrong after taking a 2-0 series lead?

When respected, veteran players who epitomize professionalism (Daniel Briere, Brian Gionta) refer to Boston's "disrespect" and "antics" it isn't merely a rallying cry. But it also was a rallying cry. "We were very motivated" said Michel Therrien a man who bears little resemblance to the coach we saw last spring.

The Bruins reign of terror is over. They were at their best in this series (Game one. Third period of game two. Game four) when they played hockey. But when they got caught up into believing they could also kick sand all over the little guys from Montreal they discovered a different mentality had taken hold. And then it was blowback time.

Claude Julien claimed the Habs were 'whining" about lack of respect. And while he said Montreal won the series "fair and square" he skipped out on the opportunity to acknowledge the players who beat him. There were no handshakes from the Boston coaches to the Montreal players. Some respect.

More on the Canadiens' impressive series win later on Friday.
3,453 Stories & Growing Daily...

To date HometownHockey.ca has posted a total of 3,453 hockey stories!

Be sure to check out our Columnists archives or, why not Contribute a Story yourself!



HometownHockey.ca

offers a very generous revenue sharing opportunity for our Columnists. If you are interested in learning more details about writing for us, please send us an

EMAIL.
Click on Photo or Story Title for more info
HometownHockey.ca News Database Last Updated:
Aug. 10, 2020 @ 8:14 AM EDT