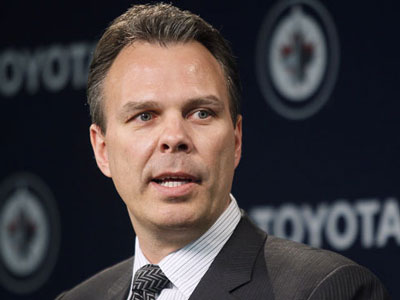 Edmonton - July 8, 2014 - Heading into the 2014 draft, the Winnipeg Jets, like all Canadian teams had a number of pressing needs that had to be addressed.

Support at center was needed as there was a question whether prior FA signing, Oli Jokinen, was still in the plan. Adding some more offense from the backend and a proven netminder would be ideal, considering Ondrej Pavlec's deterioration at the end of last season that contributed to an unsuccessful playoff run. But what would have been sweet, would have been that big fish, a game breaking offensive forward that Winnipeg desperately needs. Unfortunately to this point, no go.

Winnipeg was successful in shoring up their need for depth in centre. Signing Mathieu Perreault gives the Jets a speedy skilled centre with some versatility. But beyond this signing that's pretty much it as far as free agency and the Jets were concerned.

The Jets were rumoured (along with many teams) to be in the hunt for Paul Stastny, but he was never coming to Canada. Two years prior there was talk that the Jets were aggressively pursuing Zach Parise, but he ultimately signed in Minnesota, the place he wanted to be all along. Jonas Hiller might have been a good pick-up as he has a proven track record and goaltending definitely cost the Jets last year. Nothing was done though, and the team will be instead crossing its fingers that Pavlec has some bounce back and Hutchinson continues to fulfill its promise. Ultimately, no huge strides were made during free agency to help the team.

The same cannot be said for the Jets competition in the central division. The Dallas Stars took the biggest strides forward, signing proven offense in Jason Spezza and Ales Hemsky. If those two can stay healthy, the Stars look to be poised to make a huge leap in the division. The Minnesota Wild added one time 40 plus goal scorer Thomas Vanek which will add some spice to their power play and bolster their overall offence. Vanek has been enigmatic of late, but Minnesota is where he wanted to be and will likely trend upward offensively.

The Chicago Blackhawks, St. Louis Blues and Colorado Avalanche were already beastly teams but they made key moves to solidify their line-up. St. Louis added this year's big fish in free agency in Paul Stastny as well as KHL scoring phenom Jori Lehtera. Chicago picked up Brad Richards to fill their second line centre gap while Colorado added Veteran Jarome Iginla. The optics of the division show Winnipeg basically staying in the same spot while their competition made gains and that could mean tough times for Winnipeg next season.

So the question is, how will the Jets continue to make gains in an increasingly competitive division and Conference, and, why is general manager Kevin Chevaldayoff reluctant to pull the trigger on a major deal to help his team?

Chevaldayoff gave a timeline of 3 – 5 years to turn the team around, preaching patience and a reliance on the draft back in 2011. However, in reality no team can progress without making key moves at the right time, and the Jet's GM hasn't done that. In 2013 Chevaldayoff traded for Devon Setoguchi, a consistent 20 goal scorer for a second round pick. It looked to be a safe deal. Unfortunately Setogucchi dipped to 11 goals last season and looks to be a player in decline. The theme of Chevaldayoff's transactions are conservative and appear to be safe. But in today's NHL, safe is death.

A bigger, bolder move needs to be made via trade and Winnipeg has the assets to do it. Evander Kane scored 30 goals in 2011 – 12 but hasn't scored 20 in a season since. He hasn't been a model citizen off-ice either with an assault charge and tweeting photos of himself with piles of cash in a pure act of hubris. In spite of his negative press, Kane is what almost all NHL teams want: a power forward that can score 30 goals. In a trade Kane would likely bring a decent return. That is of course, if a trade is done while his value is relatively good. Kane reportedly liked a tweet that suggested he could be traded to Philadelphia (he later removed the like). Chevy would be wise to take him up on it. I don't think the Jets would mind seeing Sean Couturier in their lineup and that would be the realistic ask for a young player of Kane's ilk. Unfortunately nothing has happened and if the Jets are not careful they could hold an asset in Kane that offers diminishing returns.

As far as free agency is concerned, Winnipeg does face the same challenges of other western Canadian teams: cold climate, intense media scrutiny, non-playoff status. But even with those challenges both the Calgary Flames and Edmonton Oilers were much more active in pursuing players to fill needs. Could the Jets have done more? Certainly Jonas Hiller would have been a nice target, followed up by an attempt to move Pavlec, a move that would likely mean the Jets retaining some salary to make it happen. Unfortunately that didn't happen.

The Job of an NHL GM is not an easy one. You spend most of your time being a farmer, managing staff and prospects but are judged in your ability as a hunter, a shrewd broker who can bring home the big deal. Hailing from Saskatoon, I'm not surprised Chevaldayoff is an adept farmer, stockpiling prospects and making key coaching decisions. I just think he needs to clean his rifle and put it to work when hunting season is on a little more often.