| | |
| --- | --- |
| | |
TIMEOUT - Which NHL team that missed the playoffs this year is most likely to qualify in 2014-15?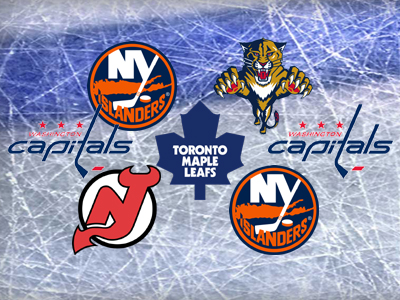 Stoney Point - July 8, 2014 - In this week's installment of 30 Second Timeout we asked the following question: Which NHL team that missed the playoffs this year is most likely to qualify in 2014-15?

Beer League Hero - The Washington Capitals will make the playoffs in 2014/15 at the expense of the Detroit Red Wings. Signing Matt Niskanen and Brooks Orpik has vaulted their defense into the top 7 or 8 in the NHL and add to that a forward group capable of taking any team out to the woodshed at will. A Barry Trotz team with this offense is frightening to say the least.

Phillip Blancher - As much as it pains this Buffalo Sabres fan to say it, the Toronto Maple Leafs will make the playoffs this year. It's not because the Leafs have improved, but their competition on the playoff "bubble" has gotten worse.

Shaun Maddex - I think the New Jersey Devils have a really good chance. They added some decent offensive guys in Cammalleri and Havlat, and the teams in their division above them didn't do much to improve their rosters. Cory Schneider being definitive number one will help as Brodeur had a rough year which likely cost the Devils a couple points in the standings.

Madison Moroz - I think New Jersey or Washington sneak in and Detroit's historic run comes to and end, or Columbus just cant repeat the success from last year. Its rather too close to choose. Washington I think is the favorite out of the two, because of how much they shored up the defense, adding yet another puck mover and threat to get the puck up to Alex Ovechkin and the new rookie Kuznetzov. I don't expect it to be a big move, sneak in at 8th or 7th place.

Chris Ostander - New York Islanders. Even with average goaltending the Isles would have been competing for a playoff spot last year. With Jaro Halak headlining a relatively quiet free agency period, New York should have the goaltending to put them over the hump. While I think there are more than a few questions on the roster, adding Mikhail Grabovski to compliment their young core appears to be a wise move, especially from an advanced stats point of view.

Chris Savard - New York Islanders. John Tavares will get some offensive support from Mikhail Grabovski and Nikolai Kulemin. Look for one of the Isles first round picks Michael Dal Colle or Josh Ho Sang to make the team and contribute. Jaroslav Halak should provide some needed consistency between the pipes. GM Garth Snow just needs to shore up the back-end of this squad to see a return to the post-season.

Ryan Womeldorf - Florida Panthers. It'll be easy to sleep on them because they've been terrible for a decade, but adding Dave Bolland, Jussi Jokinen and Aaron Ekblad to a group of solid forwards and developing youth could be the push the Panthers need to make the playoffs.

What do you think? You can vote in our poll and leave a comment below.


NOTE- Poll question is changed regularly and may not match topic in story
---

---
---

---
3,472 Stories & Growing Daily...

To date HometownHockey.ca has posted a total of 3,472 hockey stories!

Be sure to check out our Columnists archives or, why not Contribute a Story yourself!



HometownHockey.ca

offers a very generous revenue sharing opportunity for our Columnists. If you are interested in learning more details about writing for us, please send us an

EMAIL.