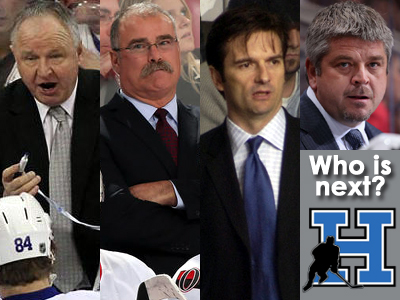 Stoney Point - July 22, 2014 - In this week's installment of 30 Second Timeout we asked the following question: It has been said that NHL coaches are hired to be fired. Which current NHL coach will be the first to be fired?

Glenn Austen - I have to say Randy Carlisle. I think this is a move that should already have been made given his lack of success in Toronto, especially given that he has some key pieces to work with in Kessel, Bernier , Rielly, Gardiner and JVR, not to mention the much maligned Kadri and Phaneuf. If the Leafs get off to a poor start, Carlisle should be shown the door and replaced by an offensively oriented coach better suited to maximizing the collection of talent in Leaf land.

Beer League Hero - I'm putting my money on Randy Carlyle to be the first one fired. After canning Carlyle's assistant coaches earlier and Nonis' assistants today, Brendan Shanahan is putting everyone on notice. Sink or swim. It's only a matter of time until Carlyle is given the axe. A bad start out of the blocks should ensure his dismissal with Steve Spott and Peter Horachek waiting to fill in temporarily. Not only that but has Dan Bylsma signed on anywhere yet?

Phillip Blancher - I think Ottawa Senators head coach, Paul MacLean will be the first to go. With Spezza gone, the team is in full rebuild now and I expect MacLean will go because the Sens don't want to fire the real person who could go, Bryan Murray.

Shaun Maddex - Randy Carlyle, with the disaster last season in Toronto, and the rumours that were swirling for the past couple months, Carlyle is on a short leash. Toronto seems headed in a different direction with some recent hires and Carlyle doesn't feel like a fit there anymore.

Chris Ostander - No coach is ever safe in Philly, so Craig Berube is a decent candidate. But you have to think Randy Carlyle isn't long for the NHL coaching world. The Leafs have a new management team and just today (July 22) brought in two more additions to their front office. The addage that new ownership management groups want their own guys in place will likely play a factor in Carlyle's eventual demise, but Toronto's play on the ice will likely serve as exhibit A. I don't see him making it to the offseason, although if the Leafs start slow the axe could fall quickly.

Chris Savard - Marc Andre Fleury (1st overall in 2003), Evgeni Malkin (2nd overall in 2004), and Sidney Crosby (1st overall in 2005) have laid the foundation for the Pittbsburgh Penguins. Three seasons later they made the Cup final and the following season they won it all. Taylor Hall (1st overall in 2010), Ryan Nugent Hopkins (1st overall in 2011), and Nail Yakupov (1st overall in 2012) should be a solid foundation for Edmonton Oilers coach Dallas Eakins to work with. Add in Jordan Eberle, Darnell Nurse and a solid team and the expectations need to be higher in Oil Country. For a number of reasons, Eakins doesn't seem to be a fit in Edmonton.

Rob Soria - Randy Carlyle (Toronto Maple Leafs) - There is no question Mr. Carlyle will be on the hot seat come October and looking at the Maple Leafs current roster, he could find himself out of a job by Christmas time. The Leafs are arguably no better than they were in 2013-14 but there are two things Carlyle has going for him...1) he coaches a poorly structured team in the Eastern Conference, 2) the players could have a bit of a chip on their shoulder. That said, I can't see him surviving the season.



What do you think? You can vote in our poll and leave a comment below.


NOTE- Poll question is changed regularly and may not match topic in story