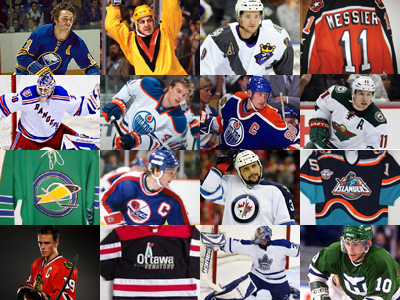 Stoney Point - July 31, 2014 - In this week's installment of 30 Second Timeout we asked the following question: Almost every NHL team has a home, away and alternate jersey. In addition, there are a number of jersey styles that are no longer in use, meaning the current 30 teams have over 100 jerseys. Of all these jerseys, what are your top three and why?

Glenn Austen - 3)Current Chicago Blackhawks jerseys: Hard to argue with the Blackhawks colours and design, or with the success of this powerhouse in recent years. Great team, great jersey! 2) Old Winnipeg jets jerseys: I always liked seeing Hawerchuk and Selanne, not to mention Antigonish native and current Sens coach Paul Maclean flying on the ice in these classic jerseys. Vintage cool! 1) New Winnipeg jets jerseys: If I were to buy a jersey, this is the one I would be most likely to buy and actually wear. Very sharp design ... It's newness does not prevent me from naming it the coolest jersey in hockey. FYI, If I had two more spots, I would have added the Montreal Canadians jersey along with the Toronto maple leafs. Nothing wrong with a classic!

Beer League Hero - I had to do a little digging but I've always found myself drawn to some of the less popular jerseys. I'll start off by saying that I'm not taking the Oilers... That's way too easy but I might tie them in somewhere. My top three are: 3) Vancouver Canucks "V" Jerseys (1982-85). These are so putrid you can't help but take a liking to them. Stan Smyl had a helluva career in these duds. They're so much better than that piece of garbage they wear now. Black, red, and yellow are the true Canucks colors and what does a whale have to do with a Canuck? 2) New York Islanders "Captain Highlander" Jersey (1995-97). I had one of these when I was a kid. I'm not sure what it was but I think it was the color scheme, the wavy stripes at the bottom and maybe the angry sailor. Their Swedish goalies never complained. 1) Campbell Conference All-Star Jerseys (1984-86). Solid Orange with black and white! Halloween delight! Not only that but the Oilers had 6 players on the '84 team. Honorable mention: Beer League Heroes 2014-15 TIHL Jersey

Phillip Blancher - My third favourite NHL jersey style, the California Golden Seals. Is it a seal on it, is it Pingu? Who can say? Early 1970's logo goodness, where's the shag carpet? Second favourite, the launch jersey for the Ottawa Senators with the Peace Tower on it. It's a jersey so ugly that history geeks like myself love this one. Plain, just like Ottawa. My all-time favourite is the original blue, gold & white Buffalo Sabres uniform. Nothing beats a classic. If it's good enough for Horton and Perreault, it's good enough for the rest of us.

Shaun Maddex - 3) Hartford Whalers: Just beautiful jerseys in my opinion, don't recall actually seeing them in action personally but I sure like seeing that logo floating around. 2) Mighty Ducks Movie Throwbacks: because who didn't grow up watching D2 and just completely believe a jersey could make you better like that. I think Anaheim has worn them. 1) Oilers Gretzky Days Jersey: The blue and orange just looks so good together, although it could've been the guys wearing them that brought the appeal.

Chris Ostander - Using a guy from Buffalo for an opinion on jerseys may not be the best decision ever. We've given you the Slug logo (although the jersey itself was pretty awesome) and those horrendous gold jerseys from last year. I'm pretty sure at least one of my entries won't be on any other list, though. 3) Los Angeles Kings "Burger King" jersey. I was the perfect age for the mid-90s third jerseys to appeal to and there's something about these uniforms I've always loved. The logo was way cooler than anyone gives them credit for and the jerseys are unique. 2) Minnesota Wild away uniform (current). There isn't much to dislike about this uniform, in my opinion. The stripes are simple, the red numbers are bold and the entire thing is incredibly visually pleasing. 1) New York Rangers away uniform. A perfect jersey. The shoulder yoke is detailed, the name and numbers on the back are unique, the classic diagonal font is one-of-a-kind and their tradition of placing patches on the shoulder and not the chest is very cool.

Chris Savard - I really struggled to get my list down to three. As a jersey collector, there are many jerseys that I like. 3) Toronto Maple Leafs third (veiny Leaf version): As a Leafs fan, there had to be a blue and white version in my top three. I have a Curtis Joseph #31 jersey that I picked up in one of the final games in Maple Leaf Gardens. 2) Edmonton Oilers (white): I am very pleased that the Oilers dumped the navy and copper. I am a big fan of the triple colour number and the white Oilers is a great looking jersey in my opinion. 1) Chicago Blackhawks (red): A classic! Love the red, love the unique number font. This jersey works really well and is often described as the nicest jersey in the league. Honorable mentions go to Montreal Canadiens (white), Ottawa Senators (black), and Quebec Nordiques (blue).



What do you think? You can vote in our poll and leave a comment below.


NOTE- Poll question is changed regularly and may not match topic in story