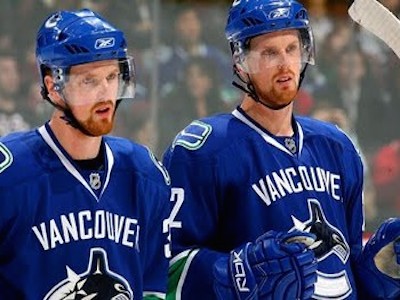 Vancouver - August 8, 2014 - I had a friend recently tell me that he thinks the Sedin twins are on the start of a downward slope, as evidenced by last season's decline in performance. Now I balked at this notion and instead cited injuries and coaching as a reason for an off year. But what if he was right and the Sedins are headed down the dreaded declining slope of production?

At age 33, the both of them (heh), the decline in production is certainly entering the realm of possible and in fact highly probable for normal NHLers. For the Sedins the prime years are starting to fade away and the injuries are becoming something of a concern. However, these two guys are dominant players and have been for a very long time, especially together. It's like having two players with one mind working in perfect synchronicity with one another. It is amazing to watch and has been an incredible source of success for the Canucks.

But at what point does the decline begin for two superstar players? For many players it begins as injuries begin and the body breaks down, little issues become big issues, and the overall production takes a significant hit. But superstar players with elite skill and elite skating are a different animal. Still though, it is worth breaking down the poor season they had in 2013-14 just to try and understand what went wrong.




This is a comparison season over season between the 2012-13 and 2013-14 seasons. Lots of interesting stats are emerging. The first thing that jumps off the page at me is related to the power play points and point share from the power play. A big part of the Sedins success has always come from the dominance 5-on-4, and the surprising thing here for me is that under Tortorella they actually had higher power play point share percentages; both players made pretty significant jumps not only in point share but in 5-on-4 ice time as well. I expected a decline from the 2012-13 seasons which would've helped explain the overall decline in production. The Sedins were given significant 5-on-4 ice time and had better results under Torts than under AV, which means they were being more exposed 5-on-5. This is a bad arrow in terms of whether or not they are declining as players because 5-on-5 effectiveness is vital to a superstar's success and a better indicator of overall ability than 5-on-4 production.

The possession numbers took a hit for both players, but this is easily explained by the increase in games from the lockout season to the full season and both still put up incredible numbers in this regard, and in looking at the previous full 82 game season of 2011-12; Henrik had 57.8% CF% and Daniel had 59.2% CF%. Both had a decline, but not a significant decline. This is likely not a huge contributing factor to the huge decrease in points/game.

One thing to consider though is the difference in team depth year-over-year. Many Canuck players had poor seasons in 2013-14 and as a result may have given opposing teams the ability to focus in on the Sedin line more heavily. This may have been due a lack of depth, but it was more likely due to the coaching and strategy change.




Almost every team statistic was down, and in fact only the shot differential was increased year over year. This decline most certainly had an impact on the Sedins numbers, whether it was strategy or depth is the true question. But it is interesting to see that the Sedins contribution to the teams overall points actually decreased significantly from 0.26 down to 0.18. Again, this is likely a result of not only the Sedins having a poor season, but the third linemate as well (Burrows for the most part) This upcoming season we should get our answer as both the Head Coach and team depth have been completely altered and I dare say the lack of depth may be even more severe than last season so it will be interesting to see how Desjardins works around this. One thing working in the Sedins favour is that they will have Radim Vrbata riding shotgun this season. Vrbata is a great complimentary offensive player and knows how to finish so adding him to the offensively capable Sedins could result in magic from all three players.

I don't believe there is enough of a sample size to consider the Sedins on a decline yet, but if this season sees similar injuries or failures then it might be time for some concern.

This article uses information from extraskater.com