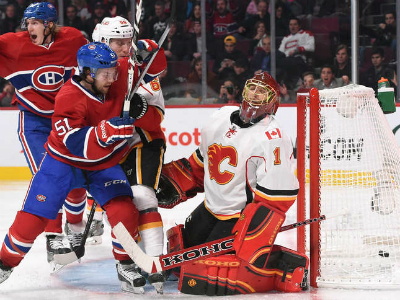 Montreal - November 3, 2014 - First game back home following a week long road trip always seems to be a tough assignment. But it's not like the Flames arrived via a 45 minute flight from NYC. And Calgary was without several regulars including Matt Stajan, Mason Raymond, Joe Colborne and Mikail Backlund.

In the two games between the teams in less than a week Calgary owned the puck while Montreal chased it, took penalties, relied on goaltending to keep them in and ultimately looked like the slower, less physical and less talented team.

If there's one snapshot to symbolize the two games it's Mark Giordano easily beating P.K. Subban to the outside - while Subban fell on his rear end (he wasn't about to stop the Flames captain) - to set up Lance Bouma who buried the puck behind a defenseless Carey Price and drive home the point that this time there would be no Montreal comeback.

Giordano and fellow defenseman T.J. Brodie combined for five points and were clearly the two best defensemen in the game.

Maybe Subban and the Habs forgot to turn their clocks back an hour. Or maybe they turned them back by three hours.

Presumably they'll be wide awake when Chicago hits town.


THE GOOD
•Andrei Markov. Solid night for Habs best skater this season. Clearly frustrated by Habs inability to score on the power play.

•Carey Price. Held off Calgary attack to at least give his team the opportunity to mount a third period comeback which seemed possible after Max Pacioretty scored in the first minute to make it 3-1. Through the first two periods Calgary outshot Montreal 30-11.

•Dale Weise. It doesn't look or sound right but Weise has not been out of place through four periods with Pacioretty and David Desharnais.


THE BAD
•P.K. Subban. Is the 'A' adding unnecessary weight to his game? Still waiting for the real Subban to show up. Even moving him away from Alexei Emelin to play alongside Andrei Markov didn't help.

•Brendan Gallagher. Since scoring two goals (including the game winner) against the Bruins on October 16, Gallagher has gone seven games without a point.

•David Desharnais. Threw the hardest check by a Hab but remains stuck at one goal for the season. Hard to score if you don't shoot (15 shots on goal in 12 games).

•Tomas Plekanec. After a hot start Plekanec has cooled considerably with no points in four games and just one goal in nine games. He's still creating scoring chances especially while on the penaty kill. In fact, it's no stretch to suggest that the Habs best scoring chances the last four games have occurred while playing shorthanded.

•P.A. Parenteau. Pointless in last seven games. Ice time was a season low 11:05.

•Penalties. Habs took eight more minor penalties while giving Calgary six power play opportunities. And they drew just one power play chance. Only four teams - Rangers, Predators, Wild and Hurricanes - have drawn less power play opportunities than the Habs.


THE UGLY
•Alex Galchenyuk. Have been worried since the season began that Gachenyuk - flying as he is -was going to get conked. And this was the night. Starting at centre where he finished up in Vancouver alongside Brendand Gallagher and Rene Bourque, Galchenyuk was bloodied after a hard open ice hit up high early in the first period by Brandon Bollig. The Habs number 27 spent much of the rest of the period in the dressing room. And didn't look good when he returned. With time running out in the first he got too cute at the Calgary blue line and coughed up the puck. The turnover led directly to the Flames second goal with just 33 seconds to play. By the second period he was back at left wing alongside Plekanec while Lars Eller, who started the game on the wing was back in the middle between Bourque and P.A. Parenteau.

•Habs offense. As you can gather by the number of key players slumping the Canadiens need more offense - from all four forward lines and from the blue line but especially from the power play. Jiri Sekac and Michael Bournival deserve an opportunity to play. They won't likely solve, by themselves, what ails Montreal at the moment. But - as John Lennon once put it - (they) can't get much worse.