| | |
| --- | --- |
| | |
Alfredsson should retire as an Ottawa Senator - here's how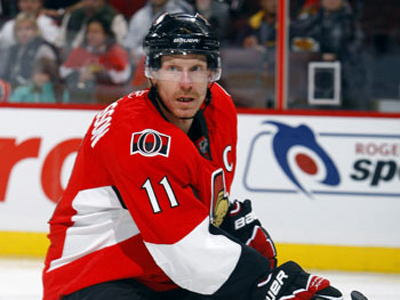 Stoney Point - November 24, 2014 - There has been plenty of speculation that Right Winger Daniel Alfredsson may announce his retirement tonight in Detroit as the Red Wings play host to the Ottawa Senators.

This morning on CFRA Ottawa, Steve Madely had this to say on the topic - The former Senators captain has not played yet this season because of a back injury. There is talk that Alfredsson and the Senators have mended their relationship since he left the team last year to sign with the Red Wings. It's possible that the Senators may be part of Alfredsson's announcement.

Alfredsson has had a storied career scoring 444 goals and 1,157 points in 1,246 games. All but 68 games of his career were played in the Red and Black of the Sens.

If this is truly the end for the 41 year old Swedish star, then the Ottawa Senators need to step up and do the right thing. The Red Wings are in Ottawa for a game on December 27th to be broadcast on Hockey Night in Canada. On that day, I believe that the Senators should sign Alfredsson to a one day contract and retire his number 11 in a pre-game ceremony that will have both of the teams he played for on the ice.

There is no question that Alfie is the best ever to wear a Senators jersey and I believe that this would be a fitting way for him to announce his retirement.


---

---
---

---
3,298 Stories & Growing Daily...

To date HometownHockey.ca has posted a total of 3,298 hockey stories!

Be sure to check out our Columnists archives or, why not Contribute a Story yourself!



HometownHockey.ca

offers a very generous revenue sharing opportunity for our Columnists. If you are interested in learning more details about writing for us, please send us an

EMAIL.