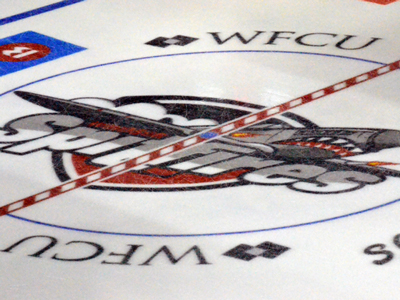 Windsor - August 23, 2013 - Forty-seven (47) players will report to our 2013-14 training camp for physical evaluations and orientation Monday, August 26th. Nineteen are returnees. The other twenty-eight are drafted players and free agent hopefuls.

Players will be made available to all media Monday at 1pm. Media are invited to stop by the Governor's Room, on the lower level of the WFCU Centre, down the hall from our main office to request players. Availability will be determined by when players arrive. Availability will end at 2pm sharp, to allow for timely testing and orientation.

New this year, the teams will be named after distinguished Spitfire alumni. Team Blue will be known this year, and for every training camp from now on, as Team Renaud, in honour of Our Captain Forever, Mickey Renaud.

Teams Red and White will be named each year for a different former Spitfire that has made a significant impact on the world of hockey in the previous season.

This year, Team Red will be Team Quenneville, while Team White will be Team Julien, in honour of Chicago Blackhawks Head Coach Joel Quenneville and Boston Bruins Head Coach Claude Julien: former Spitfire captains who led their respective clubs to a berth in the 2013 Stanley Cup final this past spring.

TEAM RENAUD (BLUE)
Michael Andlauer, Eli Billing, Ty Bilcke, Graeme Brown, Chris Cobham, Nick Ebert, Mitch Graham, Ben Johnson, Brendan Johnston, Anthony Kotsovos, Aaron Luchuk, Drew Marlatt, Anthony Marra, Ryan Markovic, Patrick Sanvido, Brady Vail

TEAM QUENNEVILLE (RED)
Adam Bateman, Paolo Battisti, John Bowen, Andrew Burns, Matthew Busby, Josh Ho-Sang, Matthew Hudie, Cameron Hughes, Slater Koekkoek, Dalen Kuchmey, Jared Leslie, Chris Marchese, Ryan Moore, Kerby Rychel, Mason Schmitt, Anton Trublin

TEAM JULIEN (WHITE)
Jordan DeKort, Ryan Foss, Remy Giftopoulos, Steven Janes, Matt Kenney, Ryker Killins, Colin Moore, Alex Morgan, Trevor Murphy, Liam Murray, Zack Percy, Kyle Shaw, Patrick Sieloff, Ryan Verbeek, Nikita Yazkov

Starting Tuesday, practices and scrimmages will be open to the media and public. Check our website for times and daily player availability.