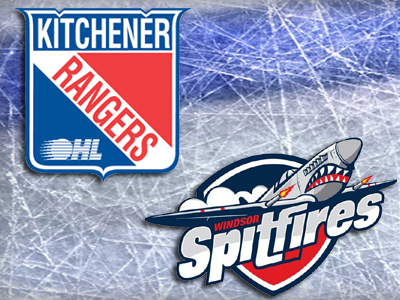 Kitchener - October 26, 2013 - Kerby Rychel led the way with a goal and two assists, as the Windsor Spitfires scored five unanswered goals in an eventual 5-3 win over the Kitchener Rangers at the Kitchener Memorial Auditorium on Friday night.

Trailing 2-0 after 20 minutes, things looked bleaked for Windsor (7-6-0-0) when Matia Marcantuoni extended the home side's lead to 3-0 at 17:05 of the second period. But the Spits scored twice on the power play in a 15-second span of the frame's final minute, cutting the deficit to 3-2.

But it would take another pair of quick goals to get the Spits over the hump. Those came in a 1:35 span of the third period, as Eric Diodati (4) and Remy Giftopoulos (4) gave the visitors their first lead with 6:04 to play.

Ben Johnson's eighth of the season into an empty net wrapped the comeback, giving the Spitfires their first road win of the season.

Darby Llwellyn and Ben Thomson had the other goals for Kitchener (4-8-0-0), which lost for the fourth straight time.

Former Spitfire Jordan DeKort made 34 saves in the loss, his second in as many games since the deal that sent him to the Rangers last week.


SCORING
FIRST PERIOD
KIT LLEWELLYN (4) (TESKEY, HORA) 5:16
KIT THOMSON (1) 9:51

SECOND PERIOD
KIT MARCANTUONI (4) (THOMSON, FANELLI) 17:05
WSR RYCHEL (9) (HO-SANG, KOEKOEK )
19:09 PP, WSR EBERT (2) (MURPHY, RYCHEL) 19:25 PP

THIRD PERIOD
WSR DIODATI (4) (VAIL, MURPHY) 12:11 PP
WSR GIFTOPOULOS (4) (HO-SANG, RYCHEL)
13:56, WSR JOHNSON (8) 19:00

SHOTS
WSR 16 - 15 - 8 = 39, KIT 11 - 8 - 8 = 27

PPS
WSR 3-FOR-8, KIT 0-FOR-3