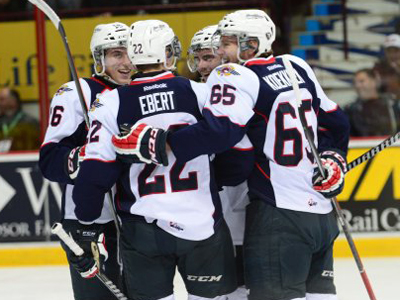 Windsor - November 3, 2013 - Kerby Rychel had a pair of goals and Dalen Kuchmey stopped all 16 shots he faced as the Windsor Spitfires dismantled the Owen Sound Attack in a 6-0 win at the WFCU Centre on Saturday night.

Windsor (9-6-0-0) scored twice in each period, extending its winning streak to five games, in support of Kuchmey's first OHL shutout.

"It feels excellent," said Kuchmey. "Especially after that really bad weekend I had against Belleville and the Soo I knew I had to bounce back."

Remy Giftopoulos continued his hot play with a three-point night (1G, 2A) and Josh Ho-Sang chipped in a pair of assists, as the Spits beat Owen Sound (8-8-1-1) for the third time in nine days, piling up 18 goals in the process.

"My linemates, Kerby and (Giftopoulos) are really easy to play with," said Ho-Sang. "We're really happy with the production we have been putting up."

Nick Ebert, Steven Janes and Ryan Verbeek also scored for the Spitfires. Brandon Hope (8 saves) was pulled after Janes scored at the 1:36 mark of the second period, putting the Spits up 3-0. Jack Flinn made 20 saves in relief, giving up the final three goals.

The game featured a half dozen fights and 104 combined penalty minutes.

The Spits next action is this Thursday as they host the Plymouth Whalers. Gametime is 7:05.


SCORING
FIRST PERIOD
WSR RYCHEL (10) (DIODATI, GIFTOPOULOS) 1:21
WSR EBERT (4) (VAIL) 11:18 PP

SECOND PERIOD
WSR JANES (3) (YAZKOV) 1:36
WSR VERBEEK (1) (DIGIACINTO, KOEKKOEK) 17:29

THIRD PERIOD
WSR RYCHEL (11) (GIFTOPOULOS, HO-SANG) 5:54
WSR GIFTOPOULOS (6) (HO-SANG) 9:33

SHOTS
WSR 10 - 9 - 15 = 34, OS 6 - 5 - 5 = 16

PPS
WSR 1-FOR-4, OS 0-FOR-4