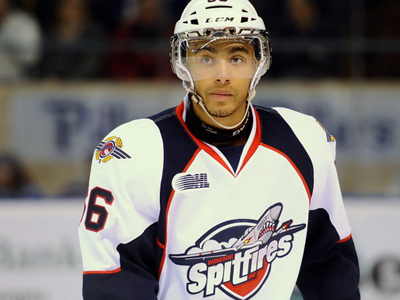 Peterborough - November 17, 2013 - A pair of power play goals in a 1:44 span of the third period capped a wild, third period comeback as the Windsor Spitfires escaped the Peterborough Memorial Centre with a 5-4 win over the Petes Saturday night.

Slater Koekkoek's point blast found its way in at 11:46 with Windsor (13-7-0-0) on a 5-on-3 advantage, before Josh Ho-Sang's 11th of the season gave the visitors a lead they wouldn't give back.

Brady Vail (10), Remy Giftopoulos (9) and Ryan Foss (4) had the other goals for the Spitfires, while Kerby Rychel chipped in a pair of assists, as Windsor won for the 9th time in 10 games.

Josh MacDonald, Eric Cornel, Nick Ritchie and Jonatan Tanus scored for Peterborough (8-12-0-3), which extended its lead to 4-2 less than a minute into the third period.

Alex Fotinos was outstanding in goal, making 30 saves in the win. Michael Giugovaz made 33 in a losing cause.

The Spits will look to make it a perfect weekend Sunday evening, as they take on the Generals in Oshawa.


SCORING
FIRST PERIOD
WSR VAIL (10) 9:23
PBO MACDONALD (5) (RITCHIE, CORNEL) 19:43

SECOND PERIOD
WSR GIFTOPOULOS (9) (VAIL) 4:36 PP
PBO CORNEL (10) (DEVLIN, MACDONALD) 15:00 PP
PBO RITCHIE (12) (CORNEL, DEVLIN) 17:18 PP

THIRD PERIOD
PBO TANUS (6) (PIEROG) 0:58
WSR FOSS (4) (RYCHEL, DIODATI) 5:43
WSR KOEKKOEK (5) (EBERT, VAIL) 11:46 PP
WSR HO-SANG (11) (RYCHEL, KOEKKOEK) 13:30 PP

SHOTS
WSR 11 - 8 - 19 = 38
PBO 17 - 5 - 12 = 34

PPS
WSR 3-FOR-5
PBO 2-FOR-7