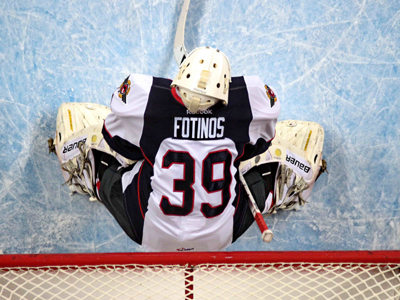 Windsor - November 18, 2013 - Since arriving via trade back in October from the Barrie Colts, goaltender Alex Fotinos has been nothing short of outstanding.

This past week, in wins over Mississauga, Peterborough and Oshawa, Fotinos posted a goals against average of 1.67 along with a .951 save percentage.

For his efforts, he's been named OHL Player of the Week for the period ending Sunday, November 16th.

PERFECT SEASON
Fotinos kicked off the week in style, making his first start after missing nearly three weeks a memorable one, in a 6-0 win over the Mississauga Steelheads Thursday night at the WFCU Centre.

He followed that performance with a gutsy, 30-save effort, making several huge saves with the Spitfires trailing 4-2, in an eventual 5-4 win over the Petes in Peterborough on Saturday. Playing his third game in less than four days, the 18-year-old Toronto native backstopped a huge defensive effort, as the Spits shut down Scott Laughton and the high-powered Generals in Oshawa, completing a weekend sweep with a 4-1 win.

The trio of victories ran Fotinos' record to a perfect 6-0 here in Windsor and a perfect 9-0 on the season.

INSTILLING CONFIDENCE
Fotinos has been a huge part of Windsor's (14-7-0-0) recent stretch of 10 wins in 11 games, giving the club a confidence it can get two points every night.

But, in his typically modest approach, Fotinos said he sees it the other way around.

"Ya, it's been the reverse for me. "Fotinos told WindsorSpitfires.com.

"This group has given me the feeling that I can win. That I can be my best and consistently play well. Since the day I arrived, everybody here has believed in me."

Fotinos says he see the Spitfires as a team that can make some noise.

"From day one, when I first saw what we had here, I thought this club had a legitimate chance to go pretty far this season. This stretch of games where we've done well, we're starting to feel what it's like to win. "We just want to keep that feeling going."