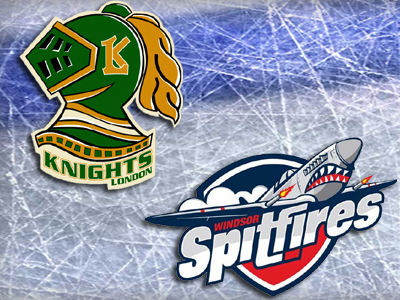 London - December 7, 2013 - Max Domi scored on the power play at 1:11 of overtime, lifting the Knights to a 5-4 win over the Windsor Spitfires at the Budweiser Gardens in London on Friday night.

The man-advantage came as the result of a controversial late penalty call, with just four seconds remaining in regulation, on the Spitfires Remy Giftopoulos; spoiling a second straight solid night for the line of Giftopoulos (2G), Josh Ho-Sang (3A) and newcomer Brody Milne (2A).

Slater Koekkoek (7) and Brady Vail (12) had the other goals for Windsor (18-10-1-0), which had its modest three-game winning streak snapped.

Koekkoek's goal gave the Spitfires its first lead, at 3-2, with 44 seconds to play in the second period.

London (21-6-1-1) roared back in the opening minutes of the third, getting goals from Bo Horvat (1:28) and Chris Tierney (2:22) during an offensive onslaught.

Vail's goal, on the power play, got the Spits back to even at 12:16. Dalen Kuchmey had 42 saves in a losing cause. Anthony Stolarz made 23 saves for the win.


SCORING
FIRST PERIOD
LDN ANDERSON (14) (HORVAT, DOMI) 11:02 PP

SECOND PERIOD
WSR GIFTOPOULOS (12) (MILNE, HO-SANG) 0:57
LDN MCCARRON (4) (WELYCHKA, ZADOROV) 14:34
WSR GIFTOPOULOS (13) (MILNE, HO-SANG) 16:25
WSR KOEKKOEK (7) 19:16 PP

THIRD PERIOD
LDN HORVAT (13) (MERMIS, ANDERSON) 1:28
LDN TIERNEY (15) (MARNER, RRUPERT) 2:22
WSR VAIL (12) (MURPHY, HO-SANG) 12:16 PP

OVERTIME
LDN DOMI (10) (HORVAT, BASSO) 1:11

SHOTS:
WSR 8 - 8 -10 - 1 = 26,
LDN 13 - 17 - 14 - 3 = 47

PPS: WSR 2-FOR-5
LDN 2-FOR-7