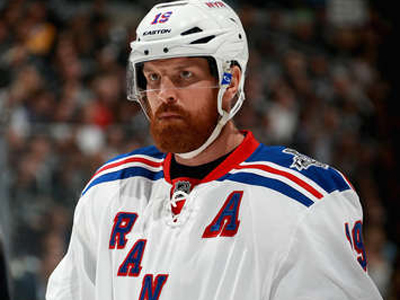 New York - June 21, 2014 - Brad Richards of the New York Rangers received a compliance buyout of his contract Friday.

Richards had six years remaining on the nine-year, $60 million contract he signed in 2011; his contract carried a $6.67 million NHL salary-cap charge.

"Tough last few days ... I loved being a Ranger and living in New York and playing at MSG in front of great fans," Richards said in a statement released by the team. "I've met many new friends, excellent teammates and staff, and I have memories that I will cherish for a lifetime.

"Glen Sather, the management and owner, Mr. [James] Dolan, are all class acts. I want to thank them for letting me be a part of New York life and the Rangers family. With this decision finalized, I can now look forward to starting the next chapter in my career."

The 34-year-old forward was second on the Rangers with 20 goals and third in points with 51 playing all 82 games in 2013-14, but his play dropped off as the Rangers reached the Stanley Cup Final, and he was demoted to the fourth line for Games 4 and 5 against the champion Los Angeles Kings. He had five goals and 12 points in 25 Stanley Cup Playoff games.

In three seasons with New York, Richards had 46 goals and 151 points in 210 regular-season games, and 28 points in 55 Stanley Cup Playoff games. That includes a trip to the 2012 Eastern Conference Final.

"We would like to thank Brad for everything he has done for our team on and off the ice during his time here," general manager Sather said in a statement. "This was an extremely difficult decision to make because of how much respect I have for him. Brad's leadership and guidance for our young players was invaluable to the organization. We are grateful to have had the professionalism and experience he brought as an example for our team to follow. Brad has been a very good player for us and an even better person. We wish him all the best in his future endeavors."

Richards will receive two-thirds of the remaining money to be paid out over 12 years, a total of $12.6 million, The Canadian Press reported.

The compliance buyout is the final one for the Rangers, who previously used one on defenseman Wade Redden in January 2013.

NHL teams have until 5 p.m. ET on June 30 to use their compliance buyouts. A provision of the Collective Bargaining Agreement gave every team two, for use after the 2012-13 and 2013-14 seasons.

A 1998 third-round pick of the Tampa Bay Lightning (No. 64), Richards has 267 goals and 867 points in 982 regular-season games with the Lightning, Dallas Stars and Rangers. He has 90 points in 118 playoff games; that includes 26 points in 23 games to help the Lightning win the Stanley Cup in 2004.

Richards' agent, Pat Morris, told the Tampa Bay Times on Friday, "Brad would certainly respond positively to interest from Tampa [Bay]," but it is unknown if the Lightning would pursue a reunion.