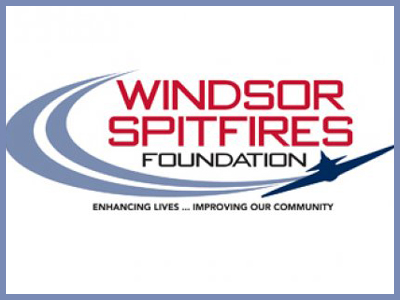 Windsor - July 11, 2014 - On Friday, August 15th, a committee led by Bob and Jenn Boughner will host a Black Tie TailGate event at the WFCU Centre in support of Transition To Betterness and the community efforts of the Windsor Spitfires Foundation.

The event will feature Nashville country music sensation Jake Maurer, great food and fun, along with Spits alumni including: Steve Ott, Mike Weber, Taylor Hall, Zack Kassian, Cam Fowler, Adam Henrique and Eric Wellwood.

Manager of Events and Public Relations with T2B, Alessia Frighetto, says the chance to partner with the SpitfiresFoundation on an event of this scope is huge.
"Bob and Jennifer attend a lot of our events," Frighetto said. "These are the times when our charity gets very lucky. When the foundation comes forward and says 'we want to put together an event for you.' That's how it came about when Bob and Jenn came forward with this idea."

Frighetto says response to the event has been very positive.

"We have 300 tickets sold and sponsorships have gone really well. It's nice to have supporters that believe in our mission and for Bob and Jenn to get their contacts involved is outstanding."

Spitfires President Bob Boughner shares Frighetto's enthusiasm.

"Jenn and I are very excited to be event chairs for this Gala," Boughner said. "We feel very fortunate to be partnered with T2B. We wanted to do a night with a little bit of a different spin on it. The country feel is something near and dear to our hearts. Living in Nashville, we fell for the whole scene. People are going to love to hear my buddy Jake Maurer and his band, straight from the honky tonks on Broadway, playing some of their favourite country tunes. Lots of fun to raise money for two great charities."

For sponsorship opportunities or reservations call 519-944-5143, email community@windsorspitfires.com or alessia@t2b.ca.

ABOUT TRANSITION TO BETTERNESS
Transition to Betterness (T2B) is a local Non-profit organization that provides comfort to patients and their family members living with life altering illnesses. T2B was founded in 1997 by two local women who saw the opportunity to make a difference in the surroundings of cancer patients. To date T2B has refurbished several hospital rooms, 3 oncology and palliative units, operates various programs within these units such as the comfort cart, comfort blanket, music therapy, concierge service program, holiday meals program, paediatric oncology unit programs such as the Back the Pack program, nutrition room, and art therapy program. Along with annual funding for their own programs T2B funds other local non-profit organizations with similar missions. T2B believes in giving where you live and keeps all funds raised within Windsor Essex. They have been and remain dedicated to a circle of care that aids people during the struggle of living with cancer and life altering illnesses. The success of the organization is due to the support and diligence of volunteers, donors, third party event hosts, and hospital staff.

ABOUT THE WINDSOR SPITFIRES FOUNDATION
Since it was founded back in 2006, the Windsor Spitfires Foundation has been committed to providing local charities with the kind of support that changes outlooks and lives. We achieve this by hosting fundraising activities throughout the year that raise money for many local charities within our community. Previous fundraising efforts have included Celebrity Autograph Session with current and past Spitfire players, Memorabilia Auctions and Kid's Street Hockey Games. The Windsor Spitfires foundation has also pledged it support to the annual Joe Hogan Memorial Golf Tournament to help raise money for cancer research, "Mickey's Run" in support of our late captain Mickey Renaud and this August to a Black Tie Tailgate Gala supporting both the foundation and Transition to Betterness. Thanks to the support of the community, we've been able to raise and donate nearly $300,000 back to more than 50 local charities and hope to continue to grow this number.