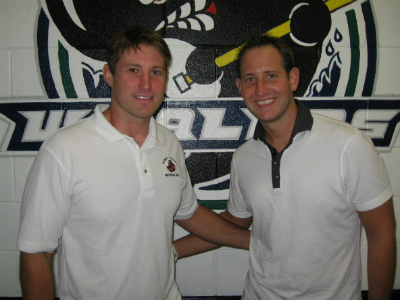 Plymouth - July 17, 2014 - Plymouth Whalers general manager Mark Craig today announced the hiring of Whalers alum John Vigilante as the team's new assistant coach. Vigilante joins head coach Don Elland behind the Whalers bench in 2014-15.

Vigilante was originally hired as coach of the Compuware midget majors in April. But when former Plymouth associate coach Joe Stefan was promoted as the team's assistant general manager in May, a coaching position with the Whalers became available.

In a related move, Compuware Youth Hockey Director Mike Henry announced the hiring of Mike Vigilante – John's brother – as new head coach of the Compuware midget majors.

John Vigilante, 29, is coming back to Plymouth where he played from 2002-06 and was the Whalers team captain in 2005-06. After graduating from the Whalers, Vigilante played four years in the American Hockey League and three in Europe before retiring at the beginning of last season due to health reasons.

"John is an outstanding example of everything we look for in a Plymouth Whaler," said Craig. "He is making a smooth transition from player to coach in just a few short months. He knows and loves the game, is familiar with our program and will continue to grow as a coach with us."

"Mike and John bring the same passion and enthusiasm to their teams," said Henry. "We were impressed with John in the short term, but long-term, Mike Vigilante will do an excellent job in the same way. The Midget Majors are in good hands with Mike and assistant Damian Surma. They are coaching for all the right reasons and will help our players reach their goals."

"I'm happy to have John behind the bench," said Plymouth Whalers head coach Don Elland. "Based on his experience, he's not much older than the players and should be able to assist them in all areas of the game – both on and off the ice. John's experience and passion every day is a plus."

"Playing in Plymouth is still one of the highlights of my career," said John Vigilante. "To come back and be part of it again from a different perspective – and fresh out of playing the game where I have knowledge of modern-day hockey – is something I'm excited to be able to share with the guys. I'm looking forward to continuing to help the Whalers in their great tradition here in Plymouth."

Mike Vigilante, 34, played college hockey from 1997-01 with Lake Superior State. After skating from 2001-07 with teams in the American Hockey League and East Coast Hockey League, Mike Vigilante turned to coaching. The Head Director and founder of The Vigilante Hockey Camps (based in Dearborn), Vigilante was the head coach of the Team Detroit 19U girl's hockey team and a three-time State Finalist in four years as a head coach.

"My brother and I bring a consistent work ethic to the rink," said Mike Vigilante. "We both played at a high level. We never would have made it that far if we didn't show up every day. My philosophy is to show up, be ready to work, be ready to buy in, play for each other and get better. Every day, we have a chance to stay the same, take a step backward or take a step forward. My expectation is that we're going to take a step forward every day."

John and Mike Vigilante are graduates of the prestigious Compuware Youth Hockey Program, a program that has won 15 National Championships and 34 State Championships since being founded in the early 1980's.

The Whalers are starting their 25th season in the Ontario Hockey League. After missing the OHL Playoffs in their first year in the league in 1990-91, Plymouth has made the post-season for 23 consecutive years – a current league record.

Last season – after making the playoffs with one of the youngest teams in the OHL – the Whalers bring back nearly the entire roster for 2014-15, including National Hockey League drafts Alex Nedeljkovic and Josh Wesley (Carolina), Alex Peters (Dallas), Matt Mistele (Los Angeles), Connor Chatham (New Jersey) and Victor Crus Rydberg (New York Islanders). 2014 first round draft choice William Bitten is an exciting young player worth watching.

Plymouth opens training camp on August 25 at Compuware Arena. The Whalers start the regular season on Fri. Sept. 26 in London with the home opener the next night on Sat. Sept. 27 at 7:05 pm at Compuware Arena against the Erie Otters.