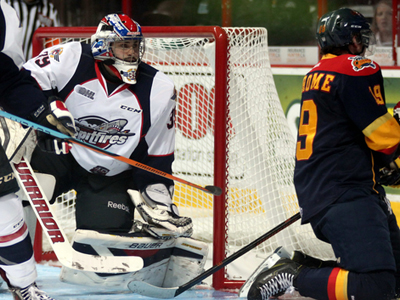 Windsor - September 27, 2014 - Connor McDavid and the Erie Otters denied the Windsor Spitfires a win in the club's home opener Friday, scoring once and adding two assists in a 5-2 decision at the WFCU Centre.

Quickly down 2-0 in the first period, the Otters tuned out the energetic home crowd, scoring five consecutive goals to overtake a young Spitfires club that dressed nine rookies.

Despite being outshot early on, the Spitfires got on the board first at 3:50 of the opening frame, as Mark Manchurek poked the puck passed Devin Williams (21 saves) for his first Spitfires goal.

Later in the period, Chris Marchese put the home team ahead 2-0 taking a pinpoint saucer feed from Columbus Blue Jackets prospect Markus Soberg.

From there, it was all Otters, who cut the lead to 2-1 before the first period was out on Nick Betz's third of the season. After Connor McDavid tied the game in the opening minute of the second period, Betz gave the Otters a lead they wouldn't relinquish, taking a McDavid feed on a shorthanded 2-on-1 at 17:09.

Taylor Raddysh and Jesse Saban added insurance goals.

Alex Fotinos made 42 saves, as the Otters outshot the Spits 47-23 in the loss.

The Spitfires will look to rebound Sunday afternoon, as they host the Guelph Storm, who lost their opener to the Belleville Bulls tonight.


SUMMARY
FIRST PERIOD
1. WSR: Manchurek (G. Brown, Vertiy) 3:50
2. WSR: Marchese (Soberg, Chatfield) 15:22
3. ER: Betz (Strome, Genovese) 16:31

SECOND PERIOD
1. ER: McDavid (Strome, Maksimovich) 0:46
2. ER: Betz (McDavid) 17:09 (SH)

THIRD PERIOD
1. ER: T. Raddysh (Strome, D.Raddysh) 4:46
2. ER: Saban (McDavid) 9:20

SHOTS ON GOAL
WSR 6 - 9 - 8 = 23
ERIE 16 - 13 - 18 = 47

POWER PLAYS
WSR 0-FOR-5
ERIE 0-FOR-4