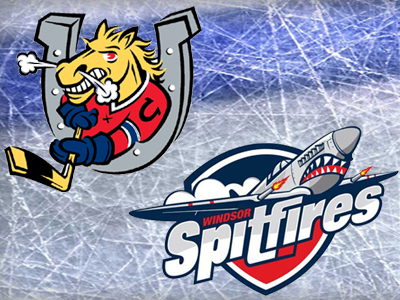 Barrie - October 19, 2014 - Joseph Blandisi had two goals and an assist, leading the Barrie Colts to a 7-4 win over the Windsor Spitfires at the Molson Centre on Saturday night.

Tied at 1-1 after 20 minutes, the Colts scored three times in the second period (Matthew Kreis, Blandisi and Andrew Mangipane) to take a 4-2 lead after two periods.

The Spitfires got close in the third, as Cristiano DiGiacinto wipped a sweeping wrist shot from the corner, past Daniel Gibl (24 saves) at 13:34 of the third period, cutting the home side's lead to 5-4.

But that's as close as the Spits got, as Garrett Hooey (3) and Blandisi (9) each scored into an empty net, in a span of 34 seconds, to seal the win.

Trevor Murphy (2) and Graeme Brown (1) had the other goals for Windsor (3-5-0-0), which failed to reach the .500 mark for the fourth time this season.

Josh Ho-Sang chipped in a pair of assists in a losing cause, while Alex Fotinos made 28 saves.

Kevin Labanc and Roy Radke each had two assists for Barrie (6-3-1-0).

The Spits wrap their two-game Central Ontario road trip Sunday afternoon in Owen Sound.


SCORING
FIRST PERIOD
1. BAR Andersson (3) (Scott) 3:04,
2. WSR Murphy (2) (Moore, Ho-Sang) 15:37 PP

SECOND PERIOD 3. BAR Kreis (1) (James, Radke) 3:18,
4. BAR Blandisi (8) (Lemieux) 6:57 SH,
5. WSR Brown (1) 8:18,
6. BAR Mangiapane (5) (Labanc, Andersson) 11:31 PP

THIRD PERIOD
7. WSR Foss (3) 4:50,
8. BAR Lemieux (6) (Labanc, Blandisi) 9:10 PP,
9. WSR DiGiacinto (2) (Ho- Sang, Murphy) 13:34,
10. BAR Hooey (3) 18:49 EN,
11. BAR Blandisi (9) (Radke) 19:23 EN

SHOTS ON GOAL: WSR 6 - 10 - 12 = 28,
BAR 10 - 9 - 16 = 35

POWER PLAYS:
WSR 1-for-5,
BAR 2-for-5