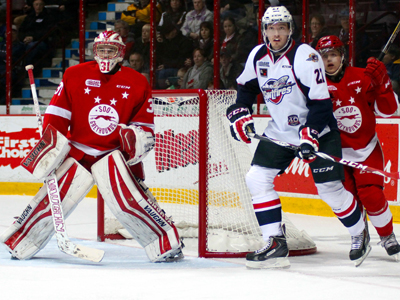 Windsor - November 16, 2014 - Windsor native Anthony Salinitri scored the winner, as the Sault Ste. Marie Greyhounds beat the Windsor Spitfires 4-2 Sunday afternoon in front of 5,110 at the WFCU Centre.

The rookie centre broke in shorthanded and beat Alex Fotinos (31 saves) for his first Ontario Hockey League goal at 6:20 of the third period, giving Sault Ste. Marie (15-5-0-0) a 3-1 lead.

Newly-acquired Hayden McCool (4) cut the lead to 3-2 with his first goal as a Spitfire, a power play marker at 10:26. But the home side couldn't get the equalizer by Brandon Halverson (23 saves) before Gabe Guertier sealed the win with his second of the game into an empty net.

Trevor Murphy (5) had the other goal for Windsor (7-11-1-0).

Tyler Ganly chipped in a pair of assists for the Greyhounds who have now won five straight.

The Spitfires are back in action Thursday night as the Sarnia Sting visit the WFCU Centre for the first time this season. The night will feature a tribute to the 1985-95 decade of Spitfires hockey, with legends Adam Graves, Bill Bowler and Tom Webster set to appear.


SCORING
FIRST PERIOD:
1. WSR Murphy (5) (Lewis) 7:51

SECOND PERIOD:
2. SOO Nurse (4) (Ganly, McCann) 7:30

THIRD PERIOD:
3. SOO Guertler (12) (Ganly, Gettinger) 4:04,
4. SOO Salinitri (1) (Dupuy) 6:20 SH,
5. WSR McCool (4) (Doggett, DiGiacinto) 10:36 PP,
6. SOO Guertler (13) (Hore) 19:52 EN

SHOTS:
WSR 7-10-8 = 25,
SOO 9-14-11 = 34

POWER PLAYS:
WSR 1/3,
SOO 0/2